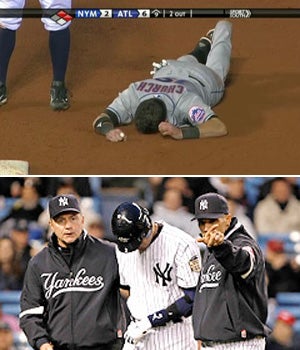 Oh, the carnage (covers eyes). Well that's it, there are no more indignities left. Following Tuesday's games, New York has seen them all. The Mets dropped a doubleheader to the Braves, featuring Ryan Church's attempt to break up a double play at second (Fail). Meanwhile, the Yankees lost to the Orioles in spectacular fashion, 12-2, with Alex Rodriguez hitting a garbage-time homer in his return and Derek Jeter getting plunked on the wrist. As a squat, leathery alien once said in a Spielberg film: "Ouch."
Unless you're still basking in the afterglow of that Super Bowl victory, its a very bleak picture in New York right now; steel-reinforced shitstorm umbrellas are being feverishly mass produced there as we speak. For the Mets, Pedro is on his way out, Willie Randolph feels that he may be as well, and the team is in fourth place (although only 2 1/2 out of first). Atlanta swept the DH, 6-2 and 6-1. Church was knocked loopy in the second game when he slid way outside the basepath at second to try and disrupt Yunel Escobar's throw, instead getting an inadvertent knee to the head. Result: Mild concussion, resulting the the sudden ability to speak French.
Jorge Campillo got his first major league win and Tom Glavine his 304th. For Glavine, it was his first win since leaving the Mets. Brian McCann homered and drove in three runs in the first game, and Mark Teixeira reached base seven times in the doubleheader on four hits and three walks. Your Chipper Jones batting average update: .409.
Meanwhile the list of Yankees woes sounds like a Billy Joel song, as they fell to 20-25, 7 1/2 behind first-place Boston. Jeter made a costly error and now is day-to-day with a bruised hand ("I've got no hand, Jerry!"), the team has lost four straight and six of seven, Mike Mussina couldn't get out of the first inning, Jorge Posada is still out, Joba Chamberlain is proving to be human after all, and there may be more Red Sox crap buried under their new stadium. (Otherwise things are just fine). Adam Jones had a three-run double for the Orioles, who have won eight of 10.