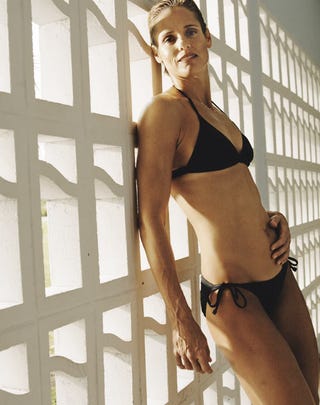 Granted, a 41-year-old woman breaking all sorts of swimming records is a red flag in today's performance-enhanced sports world, but is she being unfairly scrutinized?
Torres appeared on Dan Patrick's show today to speak about the myriad questions the media "has to ask" her in order to convince them (and all the non-believers) in her un-enhanced athletic ability.
Torres says she's taking a "proactive" approach, asking for any and all tests available to prove that, yes, she's actually a 41-year-old mother of two who is beating women almost half her age in her sport. "If I was taking something, do you think I would ask to be tested?" , she said. Torres said the only things she puts in her body (besides food and babies) are "Protein, amino acids, and vitamins."
The SF Gate's Gwen Knapp — who recently called Tiger Woods an idiot — says there'sabsolutely a double standard in the way Torres is being treated: