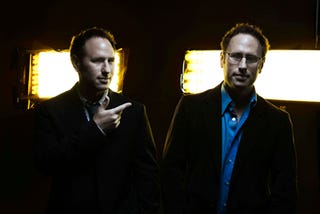 The Sklar brothers, Jason and Randy, have finished a a new web-only series for the Topps baseball card company called "Back On Topps", oddly enough about two brothers who inherit a baseball card company. High jinx will surely ensue.
The brothers did a phoner with the Riverfront Times to promote their new endeavor and the question, "What other sports blogs do you read?" was asked.
Jason: Those sites tend to be a little – harsh.
Randy: I like the writing i hate the posting. It's sometimes hard to put a piece of original content on.
Randy: I think it'd be the perfect thing for Deadspin. That blog once put up a post about us that was ''Sklars: Funny or Not?'' which kind of set us up for failure from the get-go.