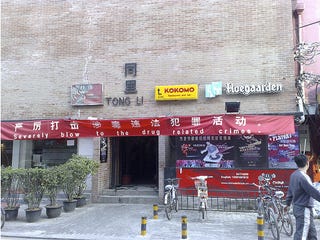 The Olympics begin in August, and they're in China, so, you know, it should be a rather fascinating world event, if you're into fascinating world events. And we are proud to welcome back our Deadspin Beijing Bureau, our own trio of correspondents living in China and reporting on everything they see, Olympics related and otherwise.
The South China Morning Post caused quite a commotion last week when they published a story citing anonymous bar owners who claimed that they had been instructed by officials to bar Blacks and Mongolians from entering their… bar. In case you missed it, the SCMP came back with a measured response to the public outcry and denials by the Public Security Bureau, this time citing an anonymous police officer. Some of our favorite China blogs (Shanghaiist, Danwei and Beijing Boyce) have been all over this, but we'll offer you our humble opinion on the matter.
As you might have put together already, there has never been a host city so concerned with its public image and perception; so much so, Beijing has issued a novella-length handbook on how locals should converse with foreigners and the, um, handicapped. In a similar vein, Beijing is cracking down big-time on drug dealing and prostitution – things that go on in most cities and tend to escalate when as many as 500,000 people come to visit. It happens that around Sanlitun - the area mentioned in the articles - there are loads of Africans selling, often indiscreetly, hash and coke outside clubs. Last September there was a "raid" in Sanlitun where paramilitary police rolled out of vans and basically beat the crap out of every black person on the street — including the son of a Caribbean diplomat. Whoops. They arrested 20-30 people but didn't charge anyone with anything; it seems they just wanted to send a message: You can't sling here anymore, fellas.