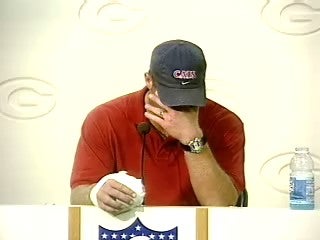 Surprise. The latest rumor percolating in the the Brett Favre douchepot has the New York Jets front-runners to land the malcontent quarterback's services. According to Chris Mortensen,
the Jets have asked for permission to talk to Favre
once Favre's reinstatement is complete. The Bucs, the front-runners just 24 hours ago, are also still interested. The details about what the Packers would look for in return have not been revealed yet, but besides the quarterback doing blue jeans commercials for the rest of his life, Favre-to-the-Jets would seem to be a perfect scenario for the Pack. They'll get rid of the albatross, get something in return, and Favre can end his career trying to find a receiver to throw to on a lowly Jets' team. Take that, old man. Plus, with the Jets not on the Packers' schedule this year, there's absolutely no chance they'll be faced with the possibility of an emotional upset win at the hands of the
gunslinger
. Unless, of course, both teams make the Super Bowl, which is about as likely as Favre suddenly gaining some of his tactfulness back.
Sources: Jets Can Talk To Packers
[ESPN]