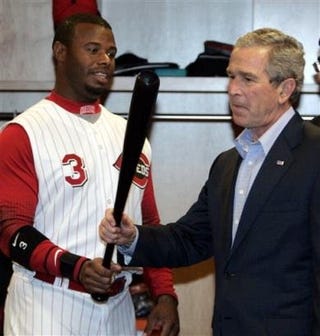 We've officially seen everything now. Griffey was evidently upset by comments Reds announcer Jeff Brantley made regarding his
contract
. Why after twenty years of relative peace, Griffey is breaking out late 90's football moves to make his points is anyone's guess. I guess he could do the Icky Shuffle but afterwords he'd probably go on the 15-day DL. Per the
Dayton Daily News
, here's the crux of the dispute:
Griffey is angry over different comments Brantley made and said one of them was, "He said I'm pouting because the Reds haven't picked up my option ($16 million) for next year. If I was that concerned about money I wouldn't have come here in the first place." Brantley said he never said that and the subject wasn't broached until Brantley and Griffey sat down in the players dining room early Sunday, "And I think he's upset that I said something about the defense of the corner outfielders (Adam Dunn, Griffey)," said Brantley.
Call me old-fashioned but if the throat slash is involved, shouldn't the person you're signaling have some idea why you want him dead?
Griffey bristles at broadcaster's comments
[Dayton Daily News]
Ken Griffey throws a throat slash towards Jeff Brantley's booth
[Big League Stew]