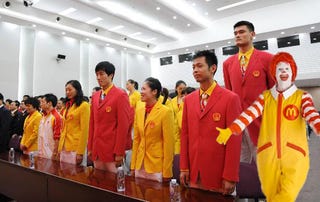 The Olympics begin in August, and they're in China, so, you know, it should be a rather fascinating world event, if you're into fascinating world events. And we are proud to welcome back our Deadspin Beijing Bureau, our own trio of correspondents living in China and reporting on everything they see, Olympics related and otherwise.
Monday at the Olympic Village, Team
McDonalds
China unveiled the largest Olympic team in history, 639 athletes strong. Sadly, Ronald McDonald (a naturalized citizen), after failing the new, more
stringent gender test
, has been banned from the Games and deported.As of August 1, the always fashion-conscious drivers of the city's 66,000 taxis will be sporting this handsome maize button-down and trouser ensemble, tastefully accentuated by a Bill Blass navy and gold striped tie.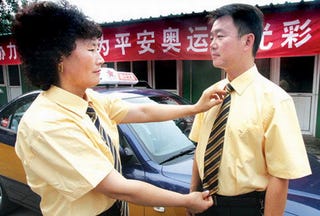 Drivers are reportedly not pleased with the stifling blue stretch pants. Over at the Olympic Village, cocky owners of J-visas have been bitching, as they are wont to do, about internet censorship. It seems that newly-arrived journalists are feeling some buyer's remorse as, after
paying upwards of $2500
for a connection, they've found that,
gasp
, China's plucky internet censors have
blocked access
to the website of Amnesty International. Other sites, including BBC's Chinese-language site and Human Rights Watch also seem blocked. We're not sure why journalists covering the Olympics would need to log-on to AI, unless they are trying to write a story about whether or not it is blocked. Come on guys: lay off the softballs. As semi-permanent "residents" of China, we are a bit jaded about the subject of Internet censorship; that is to say, we're used to it. During the course of our stay here Wikipedia, Flickr, Myspace, Blogspot, and innumerable pornographic mainstays have been blocked at one time or another. It isn't that hard, what with proxy servers and the like, to get around these blocks, but the story brings about an important point: the fact that China has broken one of it's most important promises it made in order to win their Olympic bid. The government
pledged
that, effective January 1, 2007 accredited journalists would have complete freedom to report on whatever and interview whomever they wish in the country. [
DBB's Note: Will was late filing our accreditation papers...
] Press freedom, air quality, and human rights were the biggest concerns of the IOC when mulling Beijing's bid in 2001. Despite solemn promises and detailed plans, China's delivery on these issues has been spotty. With a week until the opening ceremony the air pollution index has hovered north of 100 (50 is deemed safe internationally, though in China 100 is called a "blue sky day"), journalists are worried about their hard-drives being copied, and it's impossible to access independent information on human rights issues. Dammit, China, you gave us your word. Elsewhere, the Blacks & Mongolians bar story continues to leg it out with foreign papers beginning to get their two cents in. The Washington Post
paraphrases
echoes
our recent sentiments in Wednesday's article and notes black business owners are increasingly just as likely to be harassed as black patrons. Bar owners and many Beijingers, we presume, are eager for this whole Olympics mess to be over. Fortunately for us, it is just getting started.
In the next post from The Deadspin Beijing Bureau: The crew attempts to enter its own Olympic Delegation to BOCOG. The Deadspin Beijing Bureau can be reached at Deadspin.China@gmail.com