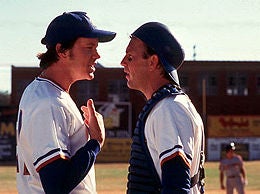 Mike DiFelice believes Lee Harvey Oswald acted alone. He believes there ought to be a constitutional amendment outlawing Astroturf and the designated hitter. He believes in the sweet spot, soft-core pornography, and that following the future Apocalypse, the world will be covered with water and some people will develop gills. Um wait, wrong movie. DiFelice is also the 39-year-old catcher for the Class AAA Durham Bulls .
"Whatever you do, I wouldn't bring up Crash Davis," warns Matt DeMargel, the Bulls' director of media relations. Twenty years after the release of "Bull Durham," the team roster happens to include a 39-year-old player, DiFelice, who bears some similarities to the Kevin Costner character. Plays for Bulls. Check. A catcher. Check. Nearing end of career. Check. Mentors young pitching prospect. Check.
DiFelice hit .389 in 10 exhibition games with the Tampa Bay Rays, but was sent to Durham anyway. A little miffed, the first day he arrived he warned his teammates not to call him Crash. To this day, only his wife can get away with it. "We have a very sarcastic relationship," said Tish DiFelice. DiFelice has eight years and 94 days of major-league service; he began with the Cardinals in 1996, and hit .307 for Tampa Bay in '99. This year he's hitting .219 with the Bulls. So all that remains is for him to start
a mediocre rock band
, and he's pretty much got it covered.
Bulls Catcher Shuns Comparisons
[Charlotte News And Observer]