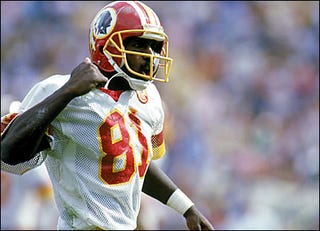 Right about now, the NFL's Hall of Fame Inductions
are starting
over at ESPN, and grown men are about to start openly weeping. After years of getting snubbed by the voting committee, Washington Redskins great Art Monk is finally getting his time in the sun. Monk is being inducted into the HOF along with teammate Darrell Green, former Patriot Andre Tippett, former Bronco Gary Zimmerman, Fred Dean, and former Kansas City Chief Emmit Thomas. Does this mean that Redskins fans can
finally stop whining
about the crimes committed against Monk's legacy? One would hope so, but I wouldn't put anything past those guys. I'm kidding, UM. Don't fire me!
"What makes this even more significant than just being in the Hall of Fame is that we're going in together," Monk said of being inducted with Green. "He wasn't just a teammate of mine. He's a great friend. Our families are like real family."
So, yeah, have fun with that. Thanks for hanging with me on my first day here at Deadspin. It was fun, and despite my best efforts, I managed not to blow up the Gawker server. Tomorrow's another day, and I'll see you then.
Best-Case Scenario
[Washington Post]