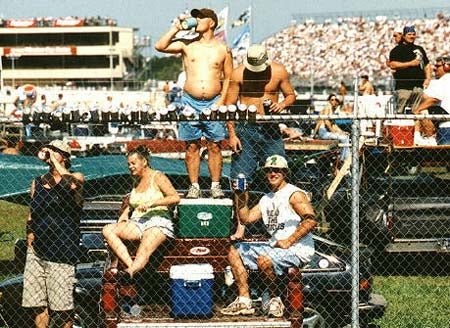 Looking for a husband? Why take a chance at nightclubs or concerts when you can troll the healthy, secure environment that is the infield at a NASCAR race? Take it from these two Staten Island sisters , who are not at all insane. The infield at Pocono Raceway is the only place to find a man.
The romance ratio is in favor of single women at the infield of Pocono Raceway. Most infield women are married or attending the race with a boyfriend or family. For single women such as Heather Foley, 25, and sister Caitlin Foley, 22, both of Staten Island, it is a great place to meet men. "Because there are so many of them," Heather said. Like women to a bathroom, men often travel to NASCAR races in packs.
Why, it's just like a story from
one of my favorite NASCAR romance novels
. Only the guy is
actually more like this
.
Racetrack May Be Perfect Place For Romance
[Pocono Record]