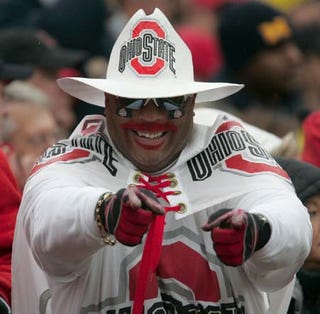 What's more, they're allowed to buy the season tickets with campaign contributions. Wow. I know that many states allow elected officials to purchase seats to the games but I think most of them require them to use their own money. Or at least they should. The Chronicle of Higher Education
has the details
An analysis of state records found that while state, county, and local officials buy the tickets, the bulk have gone to state lawmakers. Ohio State tickets go for $62 a game, or $434 for all seven home games. Elected officials are allowed to buy four season tickets, and staff or cabinet members may buy two.
Ohio State fans just got really interested in electoral politics. Now that this story is out maybe Mike Cooper needs to toss his name into the legislature hat. Hell, you could probably
fund
most state legislature campaigns by scalping four Buckeye tickets that you got to buy for face value. Oh well, at least Ohio hasn't had any recent scandals involving misappropriation of state funds. Wait...
Ohio politicians use campaign war chests to buy Buckeye tickets
[Chronicle of Higher Education]
Trading campaign funds for college football
[College OTR]