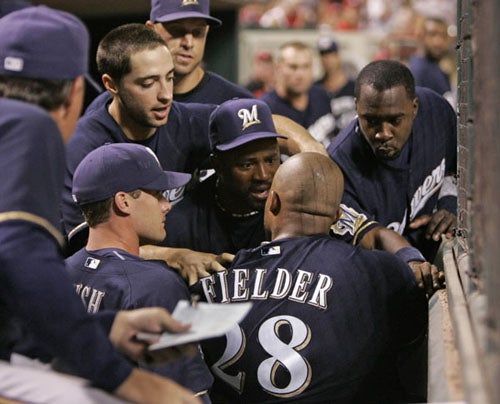 Well, it's the first week in August; time for the annual scuffle that marks the beginning of the end for the Milwaukee Brewers. Last year it was manager Ed Yost and catcher Johnny Estrada going at it. And one year later almost to the day, Prince Fielder pounces on pitcher Manny Parra in the dugout and has to be physically restrained (video following the jump). Reds win, 6-3. See you next August, Brewers' fans! From the Milwaukee Journal-Sentinel:
If what I heard was correct, Parra was getting ready to leave the dugout after being removed from the game and Fielder took exception to that, with the Brewers batting in the top of the seventh and trying to cut into the 6-1 hole that Parra dug for the team. I heard that Prince yelled at Parra, "We stayed out there and watched your (bleep). You can stay out here and watch our (bleep)." Parra scooped up his glove and jacket off the bench and it might have come close to swiping Fielder in the face. He took exception to it and went after Parra, shoving him hard twice before teammates restrained him. It was an ugly scene that players basically attributed to "boys will be boys" afterward.
Here's the video: It all started going south for Milwaukee on July 25, when, ironically, Parra was trying to hold onto a 1-0 lead in the seventh against the Astros. But he loaded the bases with nobody out, and Houston scored all three runs for a 3-1 victory. The Brewers, who were tied for first with the Cubs at the time, have gone 3-8 since, with three losses going to Parra. Milwaukee is now 62-51, five games behind first-place Chicago. Leave it to JS Online message board commenters to unravel the situation: "come on people. the entire town of cinci smells like chili, so of course prince is going to be on edge." —
my name's not Derek
In related news,
The Onion may have identified
the problem. Wizard Cat gives this fracas: Three wands.
Is It A Big Deal?
[Milwaukee Journal-Sentinal]