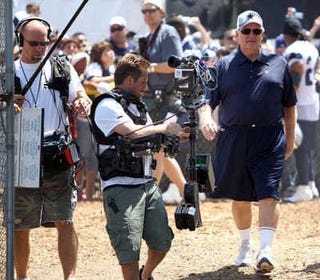 Tonight at 9 p.m. HBO unveils the premiere episode of
Hard Knocks:Training Camp With The Dallas Cowboys
as the NFL Films crew gets up close and personal (but not too close to Jerry Jones; the camera lights will melt his eyelids) to America's Team for the second time around. This has to be bittersweet for Dave Campo who was the Cowboys head coach the last time around and now is just a lowly secondary coach with a lot less face time and a much smaller whistle. No snazzy pool parties at the Jones mansion for you this time around, Dave! There is still hope for star-helmet melodrama, though, according to the
Dallas Morning News
:
"Folks in the know at NFL Films are remaining unusually tight-lipped about the series opener. There has been a lot of speculation that the Terry Glenn-Jerry Jones saga would eat up some minutes. But if it does, Films is not saying. Then again, Films has until this afternoon to deliver a finished product to HBO."
However there weren't be a lot of hotshot quarterback dimwit arm candy, according to the
Star Telegram
:
If viewers are tuning in wanting to see the Jessica Simpson-Tony Romo soap opera, they are going to be disappointed. The producers say they don't have any footage of Jessica, because she has not been at the Residence Inn complex where the team is staying. Despite teasing the show by saying the cameras would chase the story lines when the deal was struck with the Cowboys, [HBO Sports President Ross] Greenburg sounds much different now. "She hasn't shown up and we're not out there as E! Television Network looking for her."
Wouldn't it be great if Romo dumped Jessica Simpson and did so by having her summoned then asked her to turn in her playbook? Anyway, do something worthwhile with yourselves tonight. Eat a healthy meal or something. Take a cold shower. And, of course, thank you for your continued support of Deadspin.
Lights, camera...business as usual for the Cowboys
[Dallas Morning News]
It's a 'Hard Knocks' Life For Cowboys
[Star-Telegram]