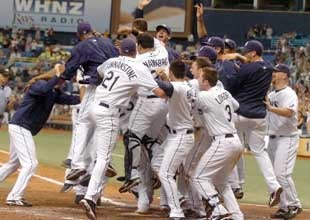 Carlos Pena was only halfway through explaining his game-winning, three-run homer during an FSN interview on Wednesday when an unidentified teammate doused him with a bucket of Gatorade. Such is the mood in Tampa Bay, where players are giddy, and people
are actually beginning to show up for games
. Yeah,
baseball
games. "Even though they were doing well, in June and July people had the feeling that it wasn't for real," said Tony Fabrizio of the Tampa Tribune. "But here they are playing well in August, and now people are starting to believe." In Tampa — and all of Florida, really — baseball has always finished a distant fourth to football, wet t-shirt contests and clamming. That's why Rays attendance has generally stunk, despite the fact that the team has the best home record in baseball. A losing tradition has taken its toll; hell, up until now, a Rays' fan's idea of getting an autograph was
to have a player sign his taco, and then eating it
. But with Wednesday's
big come-from-behind win over the Indians
comes the realization that things have changed. The Rays actually drew a decent crowd — 27,533 for a 12:40 p.m. start — and did not disappoint, as Pena's blast capped a six-run, ninth-inning rally for a 10-7 win. "I grew up here, and football has always been the 800-pound gorilla," Fabrizio said. "If this were happening in New York or St. Louis, every night would be a sellout. But there's been a bad history here with baseball. It's going to take longer." Attendance is up 30 percent from last season, to 1.3 million. And it sounded like all of them were there on Wednesday
for Pena's homer
, a walkoff shot which followed Gabe Gross's 437-foot, two-run homer that tied it. Tampa is three games up on second-place Boston in the East, with the Yankees —
who this morning were forced to sign Crash Davis
— 6 1/2 games back in third. So what has been the secret for the Rays? Fortunately, Pena is here to break it all down. "I'm not even going to waste time trying to explain this," he said. "I'm just having a great time." (Cue bucket).
Incredible Comeback: Rays Topple Tribe
[Tampa Tribune]
Rays 10, Indians 7
[NBCSports]