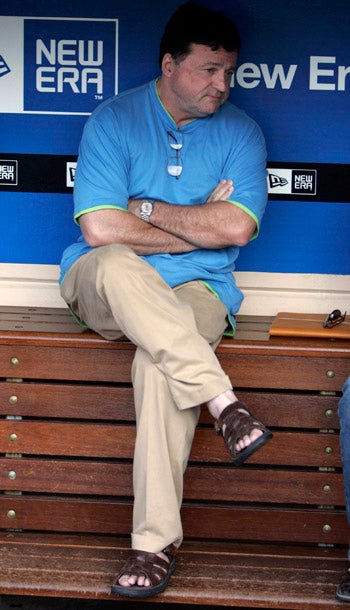 At least for April, May, June, and July. Which given the Padres start to the season was probably a blessing in disguise . Now John Moores is fighting to regain custody of the box. (Yeah, I know.) But his wife doesn't want to give up the box. (Ditto.) And the attorneys are up in arms trying to equitably distribute access to the box.
Effective July 28, John Moores "unilaterally excluded (Becky Moores) from utilizing the owner's box," according to a filing by Becky Moores' attorney, Sandra Morris. As a result, Becky Moores sought relief from the court July 30 for allocation of the box. Judge Lisa Foster denied that request because it was "not an emergency." A hearing on the matter was set for October.
October? I just hope they get this resolved before the playo...never mind. Bigger question, who gets the mandles?
Petco box is bone of contention
[Sign on San Diego]