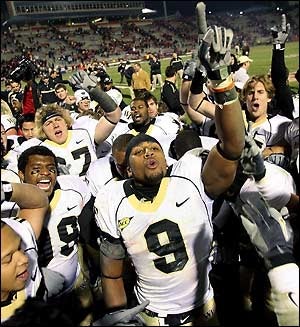 We're rolling through the top 25 of the coaches poll. Today we've got Wake Forest and, shortly, Penn State. The Wake Forest fan base should be extremely proud of the alacrity with which they responded when it was announced that no one had volunteered to preview them. No doubt this was motivated by protecting quarterback Riley Skinner's below the belt side. Golf clap. Your author of the Wake Forest preview, Deadspin commenter KazMatsuisAnalFissure. Enjoy.
When most people hear the words, "Wake Forest University", the first thought that enters their heads probably involves Tim Duncan, former Naismith POY/Wooden Award-winning Deacon basketball player and current Most Boring NBA Superstar Who Has Ever Lived – or, for the more dedicated ACC fan,
Chris Paul sucker-punching Julius Hodge in the balls
. Or for the older crowd, perhaps Billy Packer, Wake Forest class of '62, recently terminated CBS hoops announcer, and spawn of Satan. The point? The concept of "Wake Forest football" doesn't exactly register with most people. It's a shame, too, since Wake Forest has taken big steps in recent years – both on the field and off – to convince fans nationwide that their school isn't just a one-dimensional basketball school or an incestuous breeding ground for extremely bright, wealthy, obnoxious private-school-educated asswipes. That, of course, would be conference mate Duke. Cozy Groves Stadium has officially taken the leap into corporate sponsorship – hello, BB&T Field! – to coincide with what could be a special year for Wake football. Over the past two seasons – since then-redshirt freshman Riley Skinner took over at quarterback for an injured Ben Mauk in the first game of the 2006 season – the Deacs have tied for the third-most victories of any team in the ACC with 20, just one victory behind Virginia Tech and Boston College. And now Skinner enters his junior season with a running game behind him consisting of more than just converted wide receivers and fifth-string emergency tailbacks – a good thing, too, because Riley's hair (your bearded associate editor may call them 'Bama Bangs, though Skinner hails from the very un-Alabama state of Florida) are dangerously close to becoming an impediment to his eyesight. Sophomore tailback Josh Adams made himself impossible to keep off the field last season, as he eventually stole the bulk of the offense's carries from Micah Andews en route to a 953-yard, 11-TD season and ACC Offensive Rookie of the Year accolades. This year, Adams enters the year as perhaps the conference's best running back and will be expected to carry the offensive load after the departure of receiver/running back/return specialist/stadium vendor Kenneth Moore, who was drafted by the Detroit Lions and, as such, will likely never be heard from again. The offensive line loses three starters from its 2007 group, but should be able to withstand the losses, as the O-line is probably Wake's single unit best stocked with young talent. The real strength of this year's team is its defense, which returns nine of eleven starters, including cornerback Alphonso Smith and his eight interceptions in 2007 – including three for touchdowns – and safety Chip Vaughn, undoubtedly the toughest guy in the country named Chip (even beating out teammate Chip Brinkman…and no – as far as I know, that is not a name stolen from a 1980's high school movie bully). The linebacking corps of Aaron Curry, Stanley Arnoux and Chantz McClinic may be the conference's best outside of Florida State, and since we know that at least two of the 'Noles will probably be arrested before the season begins, I'm just going to go ahead and call the Deacons' group superior right now. The entire defense should force turnovers incessantly and be nearly impossible for most of the inept offenses of the ACC to score upon, allowing Wake to play the field position game for its ground control offense and stellar kicking game, anchored by kicker/punter Sam Swank. As for the schedule – it should be presented with the disclaimer that virtually no ACC team plays a difficult schedule – it's exceedingly manageable, with the only tough road test being a date in Tallahassee against a Florida State team theDeacons have beaten in consecutive seasons (including a 30-0 ass-pounding administered to the Seminoles in Doak Campbell Stadium in the Deacs' last visit). The toughest game by far appears to be the Thursday night nationally-televised home game against Clemson on October 9th. Despite Wake Forest's success over the past two seasons, the Tigers remain the one team they just can't figure out, getting destroyed in Clemson last year and losing a heartbreaker at home during the 2006 campaign thanks in part to a blocked field goal return for a touchdown. The good news? Wake Forest could win the rest of its conference games and not even show up for the Clemson game, concede an "L" and feel confident knowing that Clemson is going to relinquish the division to Wake by losing at least two games it shouldn't lose. Anyway, Wake Forest has finally found its own particular formula for remaining a good team in the wide-open ACC: a safe, methodical offense and a defense that is smart and forces turnovers, all capped off by great special teams play. It may not be exciting, but their habit of putting up more victories than teams with far more future NFL players doesn't figure to end any time soon. I expect this year's Deacons squad to win the ACC – meaning a likely Orange Bowl date with Big East favorite West (Fucking) Virginia – or at the very least, to return to Skinner's hometown of Jacksonville in a Gator Bowl appearance. After the season, big-pocketed suitors will throw millions at coach Jim Grobe and he will remain faithful to The Little School That Could. Meanwhile, Clemson and its team full of future pros will go 8-4 and play in the Astroglide Bowl in December and, in spite of this, Tommy Bowden will get another raise.