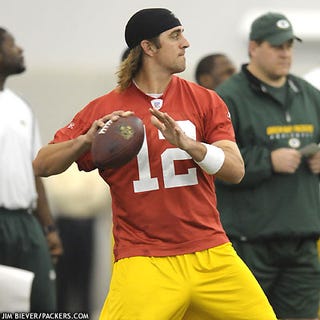 We're less than a month away from the start of the NFL season, so it's time to start the impassioned season previews from various writers, bloggers, diehard fans, cooks, TV personalities, and numerous other walks of life whom consider football the only sport worth watching. This year, the previews will be a little shorter, but will hopefully give us enough of a taste so that, come fall, we'll all be officially sick of previews. If you'd like to volunteer to write one for this year, please email me at ajd@deadspin.com There are still some teams in desperate search of an author.
Today: The Favre-less Green Bay Packers. Your author is Paul Noonan. Paul Noonan writes
The Wisconsin Sports Bar
, which covers "Wisconsin sports and features an interesting cross section of personalities." Hope so. His words are after the jump.Way back in 2005 Brett Favre threw 20 touchdowns and 29 interceptions, and people were calling for the old, washed up gunslinger to hang up his saddle, consarnit. Of course, he was throwing to guys named Rod Gardner, Andrae Thurman, and the immortal Robert "Turd" Ferguson, and handing the ball to Samkon Gado for 8 games. Donald Driver was around, but that was about it. In 2006 they acquired the up-and-coming Greg Jennings, managed to sober up Koren Robinson for 4 games, and picked the underrated Ruvell Martin off the scrap heap while flushing Turd down the proverbial craphole, which, incidentally, drains into Minnesota. They also waved goodbye to Samkon while they went into full blown Bronco running back-by-committee mode with the almost-used-up Ahman Green, Vernand Morency, and Noah Herron. Favre rebounded to an even-Steven 18 TDs and 18 picks.
Interesting…
2007 rolled around, Greg Jennings turned out to be so good that he would visit crazy people in ESPN commercials while wearing a red blazer, Donald Driver was still here, people were drinking the James Jones Kool-Aid, and Ahman Green was sent down to the minors/Texans in favor of Giant cast-off Ryan Grant, whose 5.1 yards-per-carry average was the highest since the 2003 version of Ahman Green (Note: Najeh Davenport matched this number in 2004, but we all know that he was a #2 RB. So to speak.) Favre was fantastic, throwing for 28 TDs and only 15 picks. Objectively speaking, you would be hard pressed to make the case that a 98-year-old Favre got better over the past 2 seasons. It would make much more sense to argue that Favre probably played better because of better talent around him. And while Brett is gone, that talent is still there. In fact, it might be even better. While Aaron Rodgers may never be accepted by the Packer faithful with arms wide open, it should be easy for him to succeed as long as he's somewhere around average. And doesn't break his foot. Or pull his hammy. Again. Health is probably the biggest concern with Rodgers, as he has suffered two significant injuries while having played in only one important game, last year against Dallas. This puts him on pace to break Brett Favre's consecutive games streak sometime in the year 2055. However, if Rodgers can stay healthy, his accurate short passing game should mesh well with a corps of WRs who led the NFL in Yards After Catch in 2007. Defensively, the combined age of the corners is almost larger than Favre's, but while Al Harris is slipping (being eaten and shat out by Plaxico Burress on national TV will do that to someone) Charles Woodson is still strong. Aaron Rouse should be able to unseat the popular but penalty-prone Atari Bigby. In fact, if the secondary can clean up its act just a bit they may once again attain elite status. Last year, rough play in the defensive backfield brought out more yellow flags than Cedric Benson in a NASCAR race. Al Harris and Charles Woodson joined forces to commit 23 penalties, and the careless Jarrett Bush and head-hunting Atari Bigby made matters worse. However, while the aged corners may find it difficult to improve in this facet of the game, the young kids should become more disciplined, or be replaced over the course of the season. The front seven still includes playmakers like Aaron Kampman, Cullen Jenkins, Nick Barnett, and A.J. Hawk, and should not slip much, if at all. Kampman, in particular, is a secondary's best friend. Even though he saw his sack total decline slightly he still lived in the backfield and wreaked havoc on opponents' passing attacks. Ted Thompson has been building this team for the post-Favre era. Few will excuse him for ushering that era in a tad bit earlier than Favre would have liked, but you could not ask for much more as far as well-oiled machines go. You get the feeling that this one could almost drive itself. It'd better be able to, for Thompson's sake.