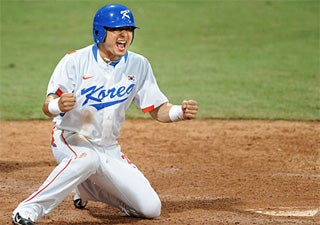 I was unaware that the Mets' bullpen had even made the trip to China, but every day you learn something new. In an upset of William Hung winning American Idol proportions, South Korea made Kim Chee out of the U.S. relievers to take an 8-7 win in an Olympic opener. Lee Jong-wook hit a sacrifice fly with one out in the ninth, with Lee Taek-keun sliding home (pictured) for the winning run. And they're celebrating in the streets of Daejon tonight! Snuppy approves . But despite the loss, you'll be happy to know that Davey Johnson's squad stayed classy .
The stunned U.S. players did not stop for post-game interviews, despite nearly two dozen reporters calling for them. The Americans had a quick turnaround to face the Netherlands on Thursday morning.
In earlier games Wednesday, Canada beat China 10-0 in eight innings and Taiwan beat the Netherlands 5-0. Brandon Knight, who chose to join the Olympics instead of reporting to the Mets from minor league ball, was battered for six runs on eight hits in 4 1/3 innings. Matt Brown had a go-ahead two-run single with two outs in the top of the ninth, but South Korea rallied against closer
Jeff Stevens
.
U.S. Return To Olympics Spoiled By Korea
[NBCSports]