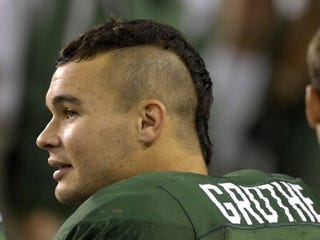 Andrew Hutchins aka Deadspin commenter Rock You Like An Iracane takes off his Florida Gator blinders and dives into the murky waters of South Florida Bull lore. When he's not rocking the commenter threads Hutchins can be found blogging at The Arena. Just to refresh your memory South Florida was truly the team that was #2 in the country and 6-0 prior to a mid-October trip to Rutgers. Chances are you knew nothing about them now and you still know nothing about them today. Read on for #21 South Florida.
We can all agree that college football's preseason polls are just ways of making sure the bluebloods and behemoths get pretty numbers before their names and guaranteeing Ohio State and USC will be around at the end of the season, right? So how the hell is the University of South Florida on the list? The Bulls didn't start playing football, period, until 1997. Division I football started in 2001. They joined Conference USA in 2003; in 2005, they lucked into a slot in the Big East after the infamous ACC raid. Put "USF Bulls blog" into
Google
. Not much there; in fact, I'd wager they're the only ranked team in the Full of BS Subdivision without a good blog; that first result gives scant coverage. And all the unknown school with the misplaced name (USF's in Tampa; if that's "South Florida," I'm Janet Reno) did last year is crash the polls more spectacularly than any other team in recent memory. The fourth or fifth most-popular team in Florida, depending on who you ask (remember, George O'Leary is honesty-challenged), was, for one week, the second-ranked squad in the nation. But that was a different team, one with All-American Mike Jenkins and ballhawk Trae Williams as ace corners who combined for nine interceptions in 2007; Jenkins had a kick return TD, too, and Williams had three pick-sixes. This one will have to rely more on its offense. Faux-hawked Matt Grothe wasn't anything but a dark horse candidate for Big East Player of the Year in August of last year; now, he can put "likely" before that title,
he's a Facebook demigod
(4,998 friends!), and he's got a decent shot at the Heisman Trophy if the Bulls should be national contenders late in the year. Mike Ford's a potential 1,200-yard back, and the receiving corps will be winning the lion's share of Grothe's jump balls, with nine players 6'2" or taller listed as wideouts on the roster. The line was solid last year except for a pathetic performance in Piscataway; seven sacks that night equaled the beginning of USF's plunge from the polls. All-American George Selvie was a terror coming around the corner in 2007, but he will have to have a great 2008 to cover up a secondary that's bound to struggle without two NFL-quality corners. The rest of the defense comes into the year with little to no renown; then again, Selvie came to USF without much fanfare, and wasn't a national name until a Freshman All-American campaign in 2006. That's something Jim Leavitt and his staff have excelled at, plucking gems from the scrap heaps of Florida with a
tip jar budget
and taking smart risks with other schools' non-qualifiers. (
Ask Nick Saban about that
.) Leavitt could probably have left for any number of brand-name schools after the last two years, but he's instead built a new BCS aspirant. Really, if USF doesn't regress this year, they should be national contenders late in the season. The schedule's set up for them, with the Big East weak in terms of depth, Kansas, Pittsburgh, Rutgers and Connecticut all coming to Tampa, and no major road tests (Cincinnati's tricky, but Ben Mauk's appeal for a 19th year of eligibility got turned down) until the showdown in Morgantown against West F. Virginia in December. Plus, the Bulls have derailed the Pat White Experience the last two years, knocking the dynamo himself out of their 2007 showdown. Grothe, who sometimes resembles a young, Lilliputian Brett Favre with his reckless, at times verging on stupid, style of play, will need to improve on his Favreian penchant for turnovers and bad throws; in USF's four losses last year, he threw nine picks, and his completion percentage dipped under 60% each time. USF fans would also appreciate kicker Delbert Alvarado being adopted by the Gramaticas or, at the very least, learning what the definition of "straight" is; his performance against Auburn last year, a nightmarish mélange of misses that would make a Florida State kicker cringe, followed by, of course,
the field goal to send the game into overtime, defied explanation
.
And Oregon's a four-letter word among the faithful
. Yet: the Bulls enter the year ranked higher in the USA Today poll than Penn State, Michigan, Alabama and Notre Dame, and only the Fighting Tebows have a loftier number among in-state schools. Yet: there's a decent chance that USF will find itself in a BCS bowl at year's end. And if things go awry, there's also a decent chance that
the tightly-wound Leavitt, who has no love for the media
, will make Mike Gundy look like a nun before November. As a Gators fan, I'm cheering for the latter.