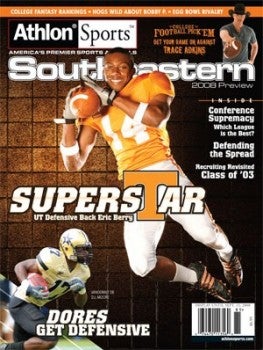 Last year Tennessee was 10-4 and won the SEC East. Change just three plays from three different games (a made field goal against South Carolina that sent the game into OT, Vanderbilt's missed field goal that would have won the Dores the game, and a blocked Kentucky field goal in OT) and Tennessee is 6-6. The same held true in 2006 (several plays from UT-Florida that ended in a 21-20 Gators win and the LSU loss on a Jamarcus Russell touchdown pass with nine seconds remaining). Change those two plays and Tennessee wins the SEC East and might be playing Ohio State for the national championship instead of Florida. And the year before that—the disastrous 2005 season that led to more drunken nights in Tennessee than the passage of the 1964 Civil Rights Amendment—change just three single plays and 5-6 becomes 8-3. So what I'm getting at is, it's not a cliche to say that three plays will likely end up determining whether Tennessee has a great or horrible season. Three damn plays.
Strengths
The Vols return their entire offensive line, top three running backs, top five receivers, and break in a new quarterback-Jonathan Crompton. The returning offensive line allowed less than five sacks all season. Of course some, such as me, discount this fact because Erik Ainge embraced the "backpedal and fling passes into the sideline as soon as a defensive tackle gets within five yards of you" quarterbacking strategy. Jonathan Crompton is the new golden boy. He's a redshirt junior who started two games two years ago. The Vols lost both. He brings mobility, a strong arm, and a buzz cut back into the Vol fold. In my lifetime no Tennessee quarterback with a buzz cut has ever led UT to an SEC Championship. This is potentially ominous. Unless Tee Martin's hair qualifies as a black buzz cut. I don't know, I'm not an expert. At running back Tennessee returns Arian Foster who should become UT's all-time leading rusher this season. He's as likely to rush for 200 yards as he is to attend Knoxville poetry slams. Seriously. If Foster garners the record he'll be passing Travis "No Fallopian Tubes Can Stall My Boys" Henry. In related news there's already a UT prayer group meeting weekly to pray that at least one of Travis Henry's sons can break 800 on the SAT and be eligible to play at UT.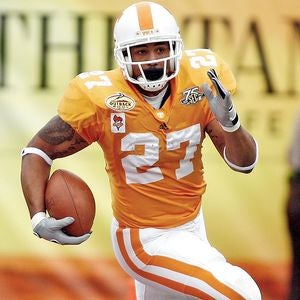 On defense Tennessee will feature the safety duo of Demetrice Morley and Eric Berry. Both will be first round picks in the NFL draft when they become eligible. Berry is only a sophomore and already the Kappa Kappa Gamma house on UT's campus has Blow Berry Tuesdays. Which was really cool until the Kappa Sigs at UT starting showing up too. Demetrice Morley didn't play last year. Because he was academically ineligible. Being academically ineligible at UT is really tough. Like finding a Florida Gator girl without a ready supply of Little Debbies. As a starting freshman Morley was an athletic safety with a tendency to "freelance." And by freelance what his coaches meant was "not have any idea what defense we're actually in." But that's in the past. Expect for Berry'd to become a very popular saying on College Gameday..and for Blow Berry Tuesdays to soon move to the Tri-Delt house.
Weaknesses
The Vols defensive line is made up of a collection of guys who have never quite lived up to their potential. And it's not a deep group. John Bell Hood Chavis has shown himself to be, at the very least, a huge proponent of stopping the run. Something that UT did not do at all last year. Of course stopping the run was easier back in the halcyon days of 2001 (adn before those damn Yankees got repeating rifles) when Tennessee started current Jaguar John Henderson and current Titan Albert Haynesworth. Now UT starts Demonte Bolden and Dan Williams at d-tackle. Yeah...I know. So the front four is an issue. As is replacing #10 pick Jerod Mayo—the SEC's leading tackler at linebacker—who left a year early. The other major concern is the front-loaded schedule. Tennessee plays at UCLA, Florida, at Auburn, and at Georgia. All in their first six games. That's three of the top 11 teams in the country in one four week stretch. Just brutal. All three games will likely feature the Vols as underdogs. If UT can split with Georgia and Florida and get through the first six games with a 4-2 record, then the final six games of the season become much easier. Making 10-2 a possibility. But, as always, there are going to be three plays that define this season. It makes being a fan complete torture. Even more of a torture if you're a fan writing a book about the season, you'll be on the road all fall following the team, and you know that no one will read that book if the team tanks. Awesome.
Rivals
Tennessee's top rival is a generational debate. Those fans who are older than 30 generally consider Alabama to be their most hated foe. This dates from the profound losing streak to the Tide from 1986-1995. It was brutal. Even writing a sentence about it makes me want to dry heave. Those younger than 30 hate the Gators with an irrational passion because, to be frank, they owned us for the 90's. I'm 29 and I think I hate the Gators more. Although if Alabama starts beating us as regularly as the Gators do, that pendulum could swing again. I've always been a big fan of truth combined with hyperbole. So we'll go with truth for Alabama. In light of the loss to Louisiana-Monroe and the Tide's continuing slide into national obscurity, Auburn is contemplating replacing the Tide with Troy so the Iron Bowl has a little more suspense. Which should sting. But not as much as this one: Vol fans don't even consider Alabama a rival anymore. Florida is tougher. Which, in the absence of recent victories on your own side, is why you have to just go with the complete and utter truth. Florida Gator girls have bingo wings. Three damn plays in three damn weeks. I can't wait.