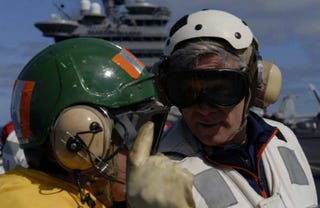 You know what my favorite part about college football is? It's that there are so few games — some teams only play 11. 11! — that you can legitimately go through and predict every game that every team in Division I-A (or whatever the hell it's called) plays. It doesn't even take that much time! You can do this with the NFL, but you know how that league is; you just know someone's going to come out of nowhere and win 12 games, and a favorite's gonna collapse and go 6-10. (My guess this year? The Cowboys.) But in college football, you can pretty much map out your whole season. Like, look
at these guys
. (The site is called The Bleacher Report, and if you run a blog, you know them because they send you about 35 links a day.) They've actually gone ahead and predicted
bowl matchups
? And why not, you know? It's just freaking guessing. Who cares? Anyway, as an Illini fan, the most satisfying part of last year's surprise season is that now, everyone assumes at the beginning of the season that we're going to make a bowl. That's all I've asked of Ron Zook; get us to a damn bowl. If we can, we'd love to avoid the Motor City Bowl every December, but mostly, get those 6-7 wins and send us to a bowl. If you make a bowl, you are in the top half of college football teams, and because there's
still
no playoff system, making a bowl is the only real concrete way to judge whether your team was relevant. If we had a playoff, going 7-5 and barely stumbling into the Insight.com Bowl wouldn't mean anything. But now? Come on down, Indiana! Sure, Illinois was hammered in the Rose Bowl — and seriously, brutally hammered — but whatever! It's sunny in Pasadena! Right now The Bleacher Report has the Illini in the Capital One Bowl against ... well, against Florida. Yeah. Listen, people: Zook is ours. I know Florida was rough on him. That was years ago. It's over. ZOOK IS OURS NOW. Got it?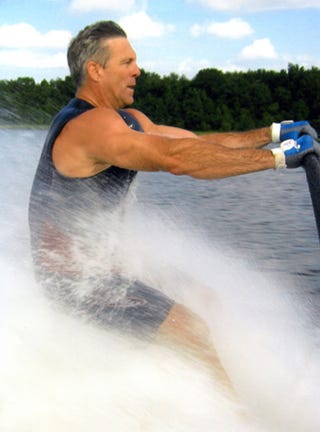 Good. Anyway, the Capital One Bowl would be fine; it's a New Years Day bowl, it's sunny outside and occasionally vikings and other pillagers will show up to enforce your credit company's hidden fees. Looking at the Illini schedule this year, I think No. 18's a bit high; it's easy to imagine five losses (Missouri, Penn State, Michigan — who Illinois CANNOT beat — Ohio State and Wisconsin), and that won't get you the Capital One Bowl. That'll get you ... well, the Motor City Bowl probably. That's OK. It can be sunny in a dome. Two main questions for Illinois: 1.
Can Daniel Dufrene take over for Rashard Mendenhall?
No he cannot. He is too small. 2.
Can Juice Williams throw this year?
I am less than convinced. Everyone got a bit too excited by the Ohio State game; the man still has a long way to go. So, yeah: 7-5 sounds about right. And Rose Bowl or not, I will take it. 7-5 and a bowl game every season is just fine; it's another excuse to hide from everyone for three hours over the holidays. Plus, 7-5 every means that Zook won't bolt for a better job; that level of sustained mediocrity will save us from the Bill Self fate. And I can't go through that again.