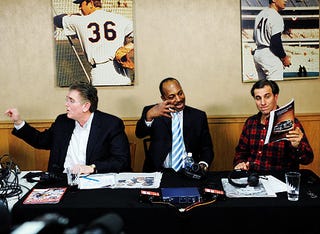 Fans of the " Mike and The Mad Dog Show" probably saw this coming months ago, but after all that speculation, it finally happened late yesterday: After 20 years partnered with Mike Francesa, Chris "Mad Dog" Russo's nasal, New Yawkishness has left the building. Francesa will remain in his current role as 1-6:30 afternoon host and has re-upped his contract. The duo's contentious relationship wasn't the reason for the split, according to Russo. The
New York Daily News
suggests Mad Dog already had one foot out the door and was not willing to commit to a multi-year contract with WFAN. It's rumored that Russo will now take over as the marquee sports loudmouth on Sirius/XM radio. But, again, Russo wanted to emphasize that this split was more about "other opportunities" and not the fact that Mike Francesa grew tired of his noisy, annoying co-host. But he won't ever step foot in that building again:
That's it. No goodbye shows, no final shows, no nothing."
Well that seems like a completely healthy and amicable way to end a 20 year relationship with someone.
Chirs (Mad Dog) Russo Out At WFAN
[NY Daily News]