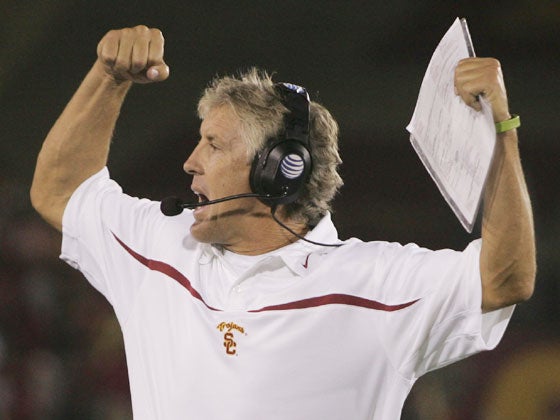 Because according to the LA Times, Carroll made $4.4 million in the 2006-2007 school year . This makes him the highest paid college coach in America. At least with verifiable numbers. You'll recall that when Alabama signed Nick Saban prior to last season there was much hand-wringing over a college coach passing the $4 million dollar mark. Meanwhile Pete Carroll was already there. Why has it taken this long for word of Carroll's salary to leak out? Because USC is a private college and as such doesn't have to release salary information in the same way that public schools do. Here's Carroll's salary broken down from the USC filing via All Things Trojan :
1. Pete Carroll - Head Football Coach Compensation: $3,953,648 Contributions to Employee Benefit Plans: $84,566 Expense Account: $20,672 Excluded from compensation is $377,500 paid to a deferred compensation plan. Total 2006-07 package: $4,436,386
Carroll was USC's highest paid employee. Head basketball coach Tim Floyd was second with a paltry $1.1 million salary. University President Steven Sample made a little less than $1 million. Even still most USC fans probably consider Carroll underpaid. Given the periodic talk about whether Carroll might leave for the NFL, a salary like this makes you wonder how many NFL teams could even afford Carroll. He's already making more than all but two or three.
USC's Top Paid Employees
[All Things Trojan]