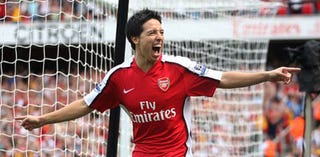 The English Premier League's new season is officially underway, and newcomer Samir Nasri has already made his mark with Arsenal. The dynamic young Frenchman scored the Gunners lone goal in this morning's (lunchtime over there) first match against newly promoted West Bromwich Albion. Arsenal dominated the first half of play, and probably should have put at least one more goal up on the board, but Emanuel Adebayor was left wanting. Aside from their lack of a goal the visitors from West Brom acquitted themselves quite well in the second half. •
Hull City FTW!
Hull City made their debut in the top flight of English football in style with a 2-1 come from behind victory over a Fulham side that narrowly remained in the Premier League this season. It was a dream come true for the tiger striped supporters at KC Stadium who saw Caleb Folan come on in a tie game after the half to put the home side ahead for the historic win. •
What the hell, Spurs?
By most indications Tottenham Hotspur appeared poised to reclaim a spot in the top eight of English football after last season's disappointments, yet they've gotten off to another unfortunate start. While it's just a single match in a long season, a road loss to Middlesbrough is obviously not Juande Ramos had envisioned. Berbatov remained on the bench while awaiting his seemingly eminent transfer, leaving Darren Bent and the newly acquired stud Giovani Dos Santos to start up front for the Spurs. Wheater scored the first goal for Boro before former Spur Mido delivered the dagger in the game's waning minutes. Huth scored in injury time to make things look a bit better, but the Boro got the three points with a 2-1 win. •
Ince's debut went well.
The match of the day went down between Everton and their guests, the Blackburn Rovers led by new manager Paul Ince. The former star of Manchester United and Liverpool had to have liked what he saw from his club during their dramatic 3-2 victory. David Dunn started the scoring early before Mikel Arteta equalized for Everton before the end of the half. The Blues went ahead behind Yakubu's goal in the second half, only to watch Roque Santa Cruz answer back a minute later. Andre Ooijer played the role of hero with his 90th minute goal that ensured victory for Ince's Rovers. •
Ah, fuck!
I was all ready to put this post to bed when Liverpool had to go and ruin a perfectly good draw. Fernando Torres put the Reds ahead in the game's final ten minutes after 80 minutes of scoreless football at Sunderland's Stadium of Light. Bollocks!