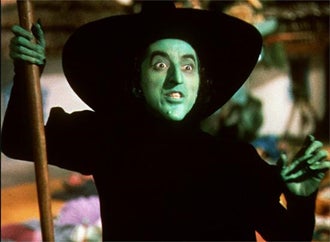 I hate to be the guy that laughs every time some poor high school kid gets violated by some other kid or group of kids that think, "Hey, if I could stick something in this kid's ass, why, that would just be fantastic!" Where's the logic? It's not that these things are suddenly happening out of nowhere, it's that we're finally hearing about them. All of them. But I'm telling you something you already know. The alleged assault took place in Las Vegas, New Mexico, at one of those sleepover football camps. I guess what happens in Vegas doesn't really stay in Vegas. Even if you try to jam it up there with a broomstick.
New Mexico State Police are investigating possible criminal wrongdoing, a spokesman said, while the owner of the camp in Gallinas Canyon said investigators visited a couple of the bunkhouses on Friday afternoon where the students stayed. At least one student alleged that he was pinned to the ground and sodomized with a broomstick — an accusation that district superintendent Rick Romero said appeared to be mostly false, although he said "part" of the allegation could be true. What did occur is still unclear, Romero said, but it seemed to have involved some form of hazing or initiation in which some students were held down against their will. "The district is investigating acts of misconduct," Romero told the Journal. Romero took over as the head of Las Vegas City Schools this summer.
The body count so far: six players, five coaches and one AD suspended. This is what happens when you leave broomsticks in open areas around high schoolers. You didn't think they were going to
sweep
the place, did you?
H.S. Grid Camp Hazing Alleged
[Albuquerque Journal]