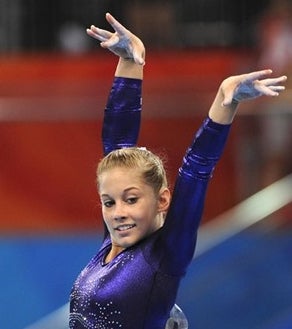 • I really can't stand to watch gymnastics more than once every four years. It's agonizing. There's such a clear disadvantage in starting some routines first, as
Shawn Johnson did in the floor exercise
, only
to be overtaken
by Romania's Sandra Izbasa, who went last. It was Johnson's third silver medal in Beijing. • How would you like to be a 41-year-old woman that everyone introduces by saying,
"This is 41-year-old Dara Torres."
Suck. Torres, who actually did some sideline reporting for NBC in their XFL coverage back in the day, has some experience with being a freak, and nearly capped off her Olympic comeback with gold. She
missed
Germany's Britta Steffen by 1/100th of a second in the 50-meter freestyle final. The silver is Torres' 11th Olympic medal. Nice going, mom. •
Raphael Nadal won Spain's first-ever gold
in men's tennis,
beating
Fernando Gonzalez of Chile. He will officially dethrone Roger Federer as the world's number one ranked men's player on Monday. Federer lost to James Blake (USA! USA!) in the quarterfinals. • Oh, and
the Willams sisters kicked the shit out of everyone
to win
gold in women's doubles.