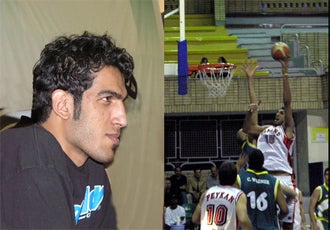 If any of you pro basketball fans were watching Iran play in the Olympics and thought to yourself that Hamed Haddadi might be a good addition to your team, you can put those dreams to bed. Haddadi, who has averaged 16 points in four games in Beijing, has been advised that the NBA office has forbidden teams from entering contract talks with him. Because he's obviously a terrorist. I'm kidding, I'm kidding! Seriously, it has to do with a federal statute that essentially creates an embargo on Iran, prohibiting American people or businesses from doing any sort of business with that country. That embargo has been in place since April of 1995.
The league office further ordered the clubs not to enter talks with Haddadi's representatives unless the US Office of Foreign Assets Control grants a license for the clubs. Haddadi scored 21 points for Iran in its fourth match in the Beijing Olympics against Argentina, which won the game 97-82. Iran's assistant coach Mehran Hatami said, "I am sure he (Haddadi) will play there this season because he has been great (at the Olympics). He is a talented player. He is OK for beginning in the NBA. After practicing a few years, you will see that he will be one of the great players."
Haddadi will love it here in America. Millions of adoring fans will be staring at him suspiciously at all hours of the day, asking him for his autograph. His fingerprints. His passport. We know how to treat our superstars in this country.
NBA Clubs Banned From Signing Haddadi
[PressTV]