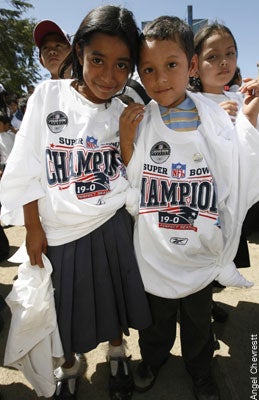 The New England Patriots doled out some AFC Championship rings in a private ceremony last week in Gillette Stadium. One side of the ring reads, "18-1 AFC CHAMPIONSHIP." Aw, that's nice. They were so close to a perfect season, but they did win their conference; they've earned that level of recognition, even if they slipped up a bit at the end. Good for them. Hey, what's on the other side of the ring. "16-0 PERFECT SEASON." Uh, what?
In the end, after declaring the season the fourth-greatest achievement in team history, they elected to have a private ceremony to commemorate it last Monday at Gillette Stadium. Owner Robert Kraft and team president Jonathan Kraft presented the players with rings. In addition, a banner was made to commemorate the season, and it was unveiled at the ceremony, with Kraft pulling a rope as it came down from the ceiling.
I get it; it's tough to decide how to commemorate a near-perfect season. But make a fucking decision. Was it a perfect
regular season
? Or was it a
Conference championship
? Because it's not a perfect season. Losing the Super Bowl to Baby Manning and a tackified helmet is not a perfect season. One loss is not a perfect season. A perfect season is Megan Fox. One loss is America Ferrera. You are America Fucking Ferrera, and don't ever forget it. Where's Mercury Morris when you need him?
Patriots Presented '18-1' Rings
[Truth&Rumors]
It's 16, Going On 17 - Or 18
[The Boston Globe]