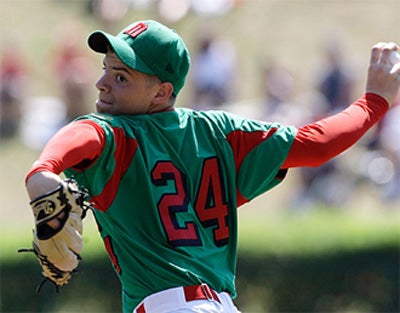 Does this pitcher look 13 to you? Mexico, once again I call shenanigans concerning your birth certificates. Anyway, Jesus Sauceda recorded the first perfect game in the Little League World Series in 29 years, although doing it in the least impressive way possible; in only four innings, and against Italy. The boot-shaped nation had to scour the entire country to find 12 kids who have even heard of baseball, and even then several of them still tried to kick ground balls to first. Sauceda struck out all 12 batters he faced in a 12-0 win over Emilia, Italy on Sunday; the game ending after four innings due to the 10-run mercy rule. If you were in a moderately-long line for a polish dog, you missed it.
Sauceda starred at the plate, too, going 3-for-3 with six RBI, including a grand slam in the third inning. "The speed of that pitcher doesn't exist in Italy," Italian manager Andrea Bettati said, shaking his head.
Of course Bettati's voice was dubbed, and it was hard to hear what he said over the Ennio Morricone soundtrack. How are U.S. teams doing? Lake Charles, La., pitcher Trey Quinn threw a no-hitter in a 9-0 win over Jeffersonville, Ind.; and Waipahu, Hawaii, beat Tampa, Fla., 10-2. Tokyo beat White Rock, British Columbia, 9-3; and Maracaibo, Venezuela, stopped Dhahran, Saudi Arabia, 12-0. Jeffersonville, of course, was the team that had a no-hitter on Friday but still lost. And now a quick glance at the calendar reveals that the teams who make the finals in Williamsport will have about three days of summer vacation remaining before school starts. Thanks, Little League, Inc.!
LLWS Sees First Perfect Game In 29 Years
[NBCSports]