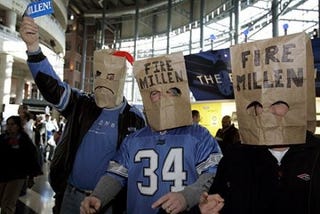 We're less than a month away from the start of the NFL season, so it's time to start the impassioned season previews from various writers, bloggers, diehard fans, cooks, TV personalities, and numerous other walks of life whom consider football the only sport worth watching. This year, the previews will be a little shorter, but will hopefully give us enough of a taste so that, come fall, we'll all be officially sick of previews. Today: The perpetually craptacular Detroit Lions. Your author is Craig Barker.
Craig Barker is one of the co-authors of
The Hoover Street Rag
, which covers University of Michigan athletics. He's writing this preview because he believes that the Lions on Sunday are the penance he pays for watching Michigan on Saturdays. His words are after the jump.From time to time in my life, I've wondered what it would be like to see the Detroit Lions go in to a season as a popular media pick to win the NFC. Not even the Super Bowl, mind you, just winning the NFC and having a shot in the game. I've been through the nerve-wracking high drama Finals moments with my teams before, so it's not a completely foreign feeling, but with the Lions, I don't even know where to begin thinking about what it would be like. Then again, from time to time, I ponder the end of the world, and what that would be like. So, I'm probably not your best bet for considering the whole spectrum of idle pondering. Every year about this time, I watch as my fellow Lions fans ramp up their hope level, in spite of pesky things like logic, facts, and statistical analysis. This is going to be the year, they just know it, a break here, a bounce here, and we're in the playoffs, and then it's anyone's game. I'm no better in this regard. Every year I get suckered in, and by October, sometimes early, sometimes late, I'm counting up the number of distinct and unique ways in which the Lions will blow it in the end. It's just Lionesque incompetence; a wonderful yet horrifying blend of calliope music and terrible football. Last season's 6-2 start ended with a 1-7 finish, a disheartened endgame for those of us who want to believe, particularly the 51-14 debacle in San Diego in Week 15. Sadly, this 7-9 mark was the high water mark of the Millen regime thus far. But like a tinhorn Central American dictator who is a committed anti-Communist during the Cold War, Millen is (Team) President for Life, and there's nothing that the common people can do about it. So why should this year (or the near future for that matter) be any better? Here's my top 4 reasons: (I was going to give you one for each Lions playoff win in the Super Bowl era, but a list of one is, by definition, not a list.)
1). The Lions currently have the best quarterback in the NFC North (and it won't matter).
With the departure of he who shall not be named from Green Bay, the projected starting quarterbacks in the NFC North this season are Detroit's Jon Kitna, Chicago's Kyle Grossman (or is it Rex Orton), Green Bay's Aaron Rodgers, and Minnesota's Tarvaris Jackson. This puts Kitna at the top of the heap, but it's like playing king of the hill in North Dakota; it's a small heap and there's not a lot of competition. Kitna is also blessed with two fantastic wide receivers (at least on paper), Roy Williams and Calvin "Megatron" Johnson. The problem is, the Lions parted ways with pass-happy offensive coordinator Mike Martz during the off-season, and Head Coach Rod Marinelli has promised a renewed focus on the run game. This shouldn't be too hard, as the Lions actually finished an honest to goodness NFL game last season (admittedly against the Arizona Cardinals) with negative rushing yardage. What this does not change is the fact that the Lions will still struggle to match last year's seven wins.
2). They play in the NFC.
If there were in the AFC, this preview would have merely listed any of the nine teams that are going to make the playoffs ahead of the Lions and called it a day. At this point of the preview, I'm sort of wishing the Lions were in the AFC.
3). They have Jason Hanson.
It has always been my firm belief that if one were inclined to purchase a Lions jersey to wear (which, to be honest, is like buying a less itchy hairshirt), it should be a Jason Hanson jersey. And yes, I know, suggesting that getting the jersey of a kicker borders on the insane, but let's look at the facts. Hanson was a teammate of Drew Bledsoe's at Washington State. He's the longest tenured current NFL player with one team now that he who shall not be named is playing for the Jets and Michael Strahan is now spending Sundays with Curt, Terry, Howie, and Jimmy and he's the last NFL player who still with the team he played for before the introduction of free agency and the salary cap. He still has a lot of leg for a 38-year old guy and well, who will look more foolish, the guy in the Hanson jersey, or the guys in the Harrington jersey. In an era where every Lion will look to find a way to disappoint you, Hanson is the one constant positive force.
4). No one lives forever
That said, until William Clay Ford, Sr. decides he no longer wants to own the Lions, or passes on to the Glass House in the sky, Lions fans likely have little reason to hope. We will continue to do so for any number of reasons, but we will not see them sniffing a Super Bowl, let alone hoisting the Lombardi Trophy. We will continue to hope, because hope dies last.