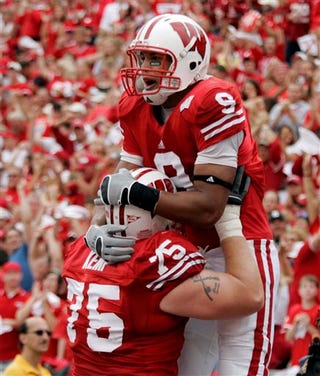 Today we're bringing a bit of Big 10 cross-pollination for you as Iowa fan Adam Jacobi from Black Heart Gold Pants brings the Badger love. At least a little bit? He also blogs at Fanhouse.
1)
Wisconsin's tight end is Travis Beckum, a 26-year-old taxi driver who's recently been discharged from Vietnam
. As Beckum drives the dark, dirty streets of New York, the crime and squalor cloud his judgment and send him into a tailspin of violence, insonmia, and perversion. The ex-Marine trains himself as if he were readying for battle, and he plans to assassinate President Palatine, whom he once told he was his biggest supporter. Beckum's experiences with Iris, a young prostitute, eventually lead him to— Wait, we're being told that the above story isn't about Wisconsin TE Travis Beckum, but is rather a plot synopsis from Martin Scorsese's classic 1976 drama
Taxi Driver
, where a young Robert DeNiro plays Travis Bickle. Travis Beckum, on the other hand, is the best tight end in the BXI. He has no evident plans to rid any city of any city sleaze, though, making him part of the problem instead of part of the solution. 2)
Yes, Bret Bielema has an Iowa Tigerhawk tattoo on his ankle.
Bielema was a walk-on-turned-captain at Iowa in the late 80s and early 90s. No, that doesn't affect his ability to coach a rival football team.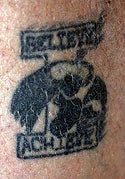 Nor is this his worst tattoo from a professional standpoint. Bielema also got the
infamous belly-button-turned-monkey-colon tattoo in Cancun in '91
, and both coaches and players are very upset about the graphic depiction of Joe Paterno violating a dolphin's blowhole that graces Bielema's left shoulder blade. 3)
PJ Hill is perpetuating fraud on the NCAA by claiming junior status, when it's plainly obvious that he has been playing there for at least 5 years under that name, and for four years prior as "Ron Dayne."
Hill is behind five
giant Wisconsin-born coeds with cankles the size of Texas
very good offensive linemen, and Wisconsin's running offense looks as good as ever. Fortunately for the elite in the Big Ten, their QB is Allan Evridge, a fifth-year Kansas State transfer who hasn't put in any meaningful minutes since high school. Shaky QB play and a brutal October slate (FACT: Wisconsin has never won at Iowa!) ensure that while the Badgers will undoubtedly win at least nine games on the year, they don't have a prayer of winning a championship.