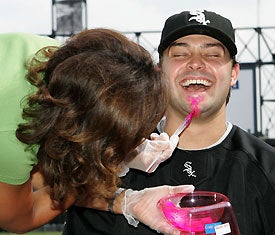 And you thought Ozzie Guillen was all the White Sox had to fear in the locker room. Backup catcher Toby Hall is recovering after Jermaine Dye blocked his attempted pie to the face. Does anyone ever wonder where all these pies come from in baseball locker rooms? How many times have you had extra pies sitting around at your work? Yet, in baseball stadiums they're everywhere. And it never gets old to hit someone in the face with one. We go to the Chicago Tribune blog for the details .
Backup catcher Toby Hall said his right shoulder was fine after teammate Jermaine Dye blocked his attempt at placing a shaving cream pie in his face during a post-game interview following the Sox's 13-5 win over Seattle. Hall had his right shoulder wrapped in ice but assured reporters he didn't not re-injure his shoulder, which he separated in spring training of 2007.
Next thing you know group sex with the blow-up doll is going to be off limits too.
Close Shaves
[Hardball: Chicago Sports Blog]
Shaving Cream Pies are Dangerous
[Luol's Dong]