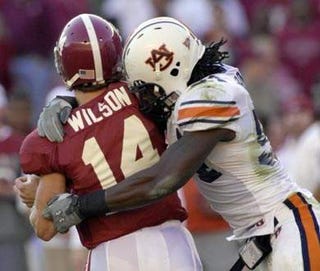 We're rolling through the top 25 and later this afternoon we'll finally crack into the top ten. Until then enjoy the melodic stylings of 2003 Auburn grad Brian J. Stultz as he brings down the hammer on the Tide, raises the profile of apostrophized greatness that is Sen'Derrick Marks, and defends Tommy Tuberville's transition lenses sunglasses. Also, it appears that our LSU previewer has dropped out so if you want the great honor of previewing the defending national champion then email me establishing your LSU bona fides via blog or topless photographs of LSU undergrads.
War Eagle! My favorite time of the year is just around the corner as it is almost Auburn football time. Coming off of a year that had some major highs (beating Florida in the Swamp and the sixth straight win over Bama) and some major lows (losing to South Florida and LSU at the last second), Auburn is stocked and ready to take their place atop the SEC once again. With the majority of tough games being at home, the Tigers are poised to make noise on the national scene as well and hopefully not get rammed in the ass like in 2004. So get out your nicest orange shirt, stock up on toilet paper for Toomers and lets get this season rolling!
Strengths
The two major strengths for Auburn during the Tuberville era have always been the defense and the plethora of running backs. (Also a strength? Tuberville and crews' 9-3 record in the last 12 games against teams in the Top 10). Leading the defense is the man, the myth. the legend Tray Blackmon. You might recognize Blackmon from his previous works such as "How to Make Tebow Cry like the Bitch He Is," "Auburn Football Player or Runaway Locomotive?" and "A Bama Player's Flirtation with Death." (See video below) On the defensive line, preseason All-American Sen'Derrick Marks will make life hell all season long for opposing quarterbacks. Much more so than if he was just Derrick. As for the running backs, the two-headed monster of Brad Lester and Ben Tate will continue the tradition of Auburn having bad-ass running backs. Lester, who has now been at Auburn for what seems like seven years, is the more mobile shifty of the two while Tate is a beast who will not only run you over but call your mother a slut while doing it.
Weaknesses
The one major weakness coming into the 2008 campaign is the play of the wide receivers. Can they hold on to the ball this year? I mean, it really isn't THAT hard to catch a football. In fact, I caught a few passes in Central Park the other day. (I run a sick out pattern). I long for the days of Devin Aromashodu and Ben Obomanu and not solely based on the fact that their names were so much fun to say. If the likes of Rodgeriqus Smith, Tim Hawthorne and Robert Dunn can step up, the offense could put up some huge numbers and points. The quarterback situation is not what I would call a weakness per se but more of a quandary. Kodi Burns, who filled in quite nicely for Cox at times last year, and Chris Todd are in a dead heat for the starting position and the keys to the new spread offense that Tony Franklin has brought from the Troy "We finally realized we aren't a State" Trojans. Tuberville has stated that both will play in the beginning of the season until one sets itself apart.
Rant and Your Team Sucks Section
There are many things that I could go on a rant about here including the major ass fucking Auburn received in 2004 by the BCS, the fact that 90% of Alabama's fan base could not find Tuscaloosa on a map, the major accomplishment that Bob Stoops pulls off each week by blowing every media voter, that every college football program has their own pregame "Walk" now even though Auburn started the damn tradition many years ago, Lou Holtz and the fact that ESPN doesn't realize he is a bitter demented old man and the fact I would love to see Bobby Petrino and Nick Saban find themselves in the Rawhide bar in Chelsea when it just happened to be prisoner parole week. But I am going to sink even lower and go after a fellow member of the Auburn family. Bobby Lowder, the booster who rules Auburn like Hitler ruled Nazi Germany, is the biggest douche bag, fuck hat, son of a bitch that ever existed. To this day, if I ever see Lowder in person, I will immediately punch the skinny E.T. looking asshole right in the kisser. Lowder has pissed all Auburn people off for a very long time but when he tried to oust Tuberville, he made an enemy for life. So Bobby, if you are reading this and we all know you are egotistical enough to google yourself and Auburn preview every day of every year, I challenge you to a duel at midfield before the Southern Mississippi game on September 6th. If you refuse and puss out, fine. But if you fuck with my boy Tubs one more time, you can kiss your sorry ass goodbye. (PLEASE don't take my diploma away!) Also, Bama fans can suck it. 7 in a row this year bitches! War Eagle!