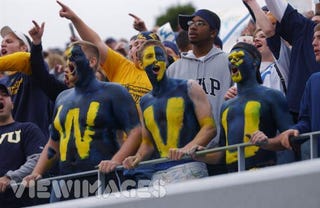 We're rolling through the Top 25 and getting ever closer to kickoff. Just one week from today. John Radcliff brings the West Virginia preview. John blogs about West Virginia at Mountain Lair and writes for FanHouse.
Strengths
Guns and Moonshine are plentiful, and the mountains create a natural barrier against invaders. Oh, football strengths? Guns and Moonshine are plentiful, and that gives opposing fans and teams an uneasy feeling from the moment they enter the state until the moment they leave. We're $4 million
richer
! Most of the dead weight is gone from last years coaching staff, but we really wish we could have kept Barwis. You laugh, but
Mr. Rogers
accepted a modest salary to ensure a significant upgrade at every assistant coaching position. He may not be the sharpest tool in the shed, but he's smart enough to know he's not the brains of the operation. And he's smart enough to know that bubble screens = fail. Something DickRod couldn't wrap his rather large noggin around. And yeah, Pat White, Noel Devine, most of the receiving corps, and the five starting offensive linemen return. We also have a linebacker named John Holmes that is rather skilled at plugging holes. And South Florida comes to Morgantown in December this year, where it will be cold and miserable and they will not have a snowball's chance in hell of winning.
Weaknesses
Whiskey, ATV's, MILF's, and
28 point spreads
. Sadly, Owen Schmitt has left the building. Instead of retiring his number, we retired the fullback position. Seriously, we've gone to the H-back. Because after him, what's the point? Also lost to graduation were 4 of our 5 starting defensive backs. Receiver Darius Reynaud and Defensive End Johnny Dingle left early so they could go undrafted and shine on someone's practice squad for a couple years until the truth sets in. Why this matters to you? No more
Dingle-Berry
pictures. So if you want a weakness for this year's team, it will be the defense.
Rivalry
Among older Mountaineer fans the saying goes, "Penn St. sucks, but Pitt swallows." Sadly, Penn St. isn't on the schedule anymore. You can point at the heated series that has developed between West Virginia and Louisville, or the fact that South Florida is the only Big East team with a winning record against the Mountaineers since the new Big East took shape. But neither of those are a drop in the bucket compared to the ocean of hate we have for Pitt. In a sense, Penn St. leaving for the Big 11 10 helped make this rivalry what it is today. Without an instate rival, both Pitt and West Virginia are free to direct their hatred at each other 365 days a year (yes Marshall, you suck so bad you can only be mentioned in parentheses). The leader of the hate squad for West Virginia always has been and always will be the Voice of the Mountaineer and the Pittsburg Steelers, Jack Fleming. You hear his voice every time you see a video of the Immaculate Reception. Like most West Virginia fans,
Fleming was brought up to hate Pitt
. "Jack Fleming's house was above the old stadium," Cook continued. "He told me, when he was a child, Pitt would come out on the field, and he would sit on his mother's lap. His mother would point down at them. And his mother would say, 'Son, that's Pitt. You hate Pitt now. You hate Pitt tomorrow. You hate Pitt until the day you die. After that, you will hate Pitt for eternity.' " As for Pitt, I don't know and I don't care. He's from Pitt and he swallows. That's all you really need to know.