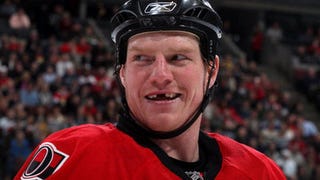 Honestly, this is a study. Thanks to the the fine people at Brock University in St. Catherine's, Ontario we know that NHL players with fat heads spend more time in the penalty box. How? Evidently head width runs the gamut from the skinny (1.6) to the unusually wide (2.3). By studying the profile pictures of NHL players, the study was able to predict which
players had the most penalty minutes based on their head size
. Here's the methodology:
He shifted his gaze to the NHL and calculated the facial ratio for the players on Canada's NHL_teams using 2007-2008 roster photos and compared the results with the average number of penalty minutes per game the player racked up for aggressive behaviour such as slashing, cross-checking, high-sticking, boarding, elbowing, checking from behind and fighting. Goalies were not analyzed. Of the 18 Senators, Carre looked at defenceman Mike Commodore, who has since left the Senators, with a facial ratio of about 1.6 and only about a minute per game in the penalty box, was at the low end of the scale. Right-winger Chris Neil, with a facial ratio of almost 2.4 and about three minutes per game in the box, was at the opposite end.
So at least we know it's not just America that does dumb studies.
Hockey fat-heads end up in penalty box more often: study
[Ottawa Leader-Post]
If your head is fat, you're a jerk
[The Two-Line Pass]