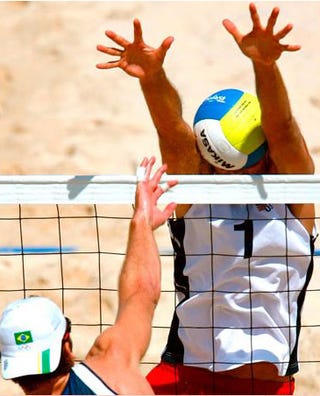 J
ust when you thought it could go on no longer, more Olympics! Here are some highlights ...
Despite this sequence here where Phil Dalhausser did his best impersonation of Mr. Met, the U.S. men's team of Dalhausser and Todd Rogers came from behind to beat Brazilians Marcio Araujo and Fabio Magalhaes and give America a sweep of Beach Volleyball gold medals. And you'll be happy to know that the men's celebration was just as silly and contrived as the women's the day before. Hmm, how did they ever do it without Bush there patting them on the ass? The Americans won 2-1 (23-21, 17-21, 15-4), giving the U.S. three of the four men's gold medals since the sport was introduced in the 1996 Games.•
Decathlon News!
Bryan Clay became the first American since 1996 to win the decathlon, finishing with 8,791 points, including 522 in the 1,500 meters. Andrei Krauchanka of Belarus took silver at 8,551, and Leonel Suarez of Cuba was third in 8,527. Can you name the American who won in '96? •
Bolt Wins No. 3
. Jamaica won the 400-meter relay in 37.10 seconds, with Usain Bolt, who ran the third leg, getting his third gold medal. Asafa Powell, Nesta Carter and Michael Frater are are the rest of the team. The time is a world record. Trinidad and/or Tobago won the silver, and Japan took the bronze. •
Michael Phelps Is A Poor Sport
. Just look at his
shameful treatment of second-place finisher Milorad Cavic
at the conclusion of the 100 butterfly. •
Baseball Been Berry Berry Good To Them
. Cuba made us look like the San Diego Pades, hitting four home runs in a 10-2 slaughter. Baseball won't be part of the 2012 Games in London, and may not be reinstaed after that either. Undefeated Korea rallied to defeat Japan 6-2 on Friday for the right to face Cuba in the gold medal game. •
U.S. Beats Tiny Landlocked Nation In Water Polo
. Tony Azevedo scored three goals and Merrill Moses stopped 16 of 21 shots to lead the U.S. over Serbia 10-5 and advance to the gold medal match against Hungary, an 11-9 winner over Montenegro in the other semifinal. The U.S. clinchjed its first water polo medal since 1988.