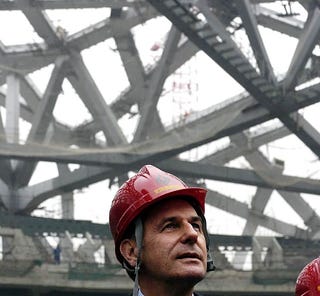 The Olympics are in full-swing and they're in China, so, you know, it should be a rather fascinating world event, if you're into fascinating world events. And we are proud to welcome back our Deadspin Beijing Bureau, our own trio of correspondents living in China and reporting on everything they see, Olympics related and otherwise.
While we empathize with AJ's angst about the pitfalls of
access
, we're starting to wish we had a press pass out here if only to attend the IOC/BOCOG press conference (they're back!). Earlier today, BOCOG's Wang Wei and IOC's Giselle Davies were again grilled about Tibet, press freedom, and of course, the real age of Chinese gymnast He Kexin. In the tumultuous days since the humble hacker
Stryde Hax
re-exposed the documents in question (which the NY Times seemed to have actually
uncovered
back in July), the story has taken off, and a pair seems to finally be descending from the smooth pasty underbelly of the IOC. Before yesterday, the IOC had been pathetically silent on the issue of China's tween gymnasts. We mean, there is strong circumstantial and, if you count the cached Baidu pages, hard evidence that the host nation seriously cheated in arguably the marquee event of the Olympics. It didn't seem like the IOC had the moxie or desire to pursue any recourse or conduct any type of investigation… and they still don't, really. Davies passively said today that the IOC has asked the international gymnastic federation (F.I.G.) "to look into it" and bring "full clarification to the topic". When
pressed by a reporter
from NBC regarding "the IOC investigating an increasing body of evidence suggesting that Chinese gymnasts are under age and were ineligible to compete," Davies reassured us that we "shouldn't regard this as some kind of formal investigation." Have they asked the team to pinky swear? While we at the Bureau think it's actually more impressive that Lil' He won her golds at such a young age – this isn't a hairy-lipped 14 year-old playing Little League, after all – we understand the American team's gripes about losing to a 5th grader, and it's beginning to look like this forgery goes pretty high up the Communist Party totem pole. If these documents are real it means that He Kexin is holding a fake passport, residence card, and current ID card, all given to her by someone with the authority to give official documents. This could be huge. Another possibility that a few Chinese bloggers are
beginning to throw around
is that He's age was actually lowered in the past in order to participate in certain age classes in local competitions. That could explain the shady documents found by Stryde Hax. Translated from a Chinese forum: A greater possibility is, the local athletic bureau changed her age to younger, so she could participate in the Inter-City Competition. In truth, nearly all age-related alterations have happened in competitions internal to China. The goal is for the local sports officials, various levels of athletic schools, and parents to conspire and "rationally" exploit regulations to win more resources, honor, and — the biggest motivator of all — political achievements for the local sports officials and connected entities in the bureaucratic resource allocation game of the sports system. So she is 16 but lied and said she was younger to compete in local competitions so her (original) fake document is what has everyone confused and appears on those cached Baidu docs and why she is having such a bitch of time getting her license at the Beijing DMV and why she can't drive the team to Yang Helin's Sweet Sixteen party.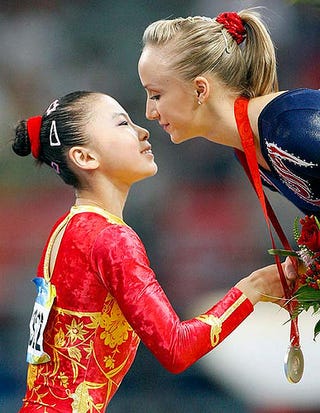 We're beginning to think that the IOC is just giving China face right now. Like, in private Jacques Rogge & Giselles Davies are actually mortified about everything that has gone on but understand that it would be monumentally embarrassing to BOCOG if the IOC demanded some sort of accountability for their many foibles during the Games. Understandable, if reprehensible. The real question for us is: What will they do after the Games? Will they launch a "formal" investigation into the gymnastics scandal? Is their some sort of feisty review they publish down the road that will discuss the human rights, pollution, and censorship promises China made and disregarded? Or will the IOC just fade out and reappear in 4 years in London? It took Jacques Rogge about 3 hours to complain about Usain Bolt not shaking enough hands and making playful poses after his race. How long will it take him to say anything critical about his hosts? Unfortunately, today was the last IOC/BOCOG press conference of the games – meaning Wang Wei and Giselle Davies will finally be allowed outside - but Rogge is scheduled to preside over a closing press conference this weekend. That event might be harder to get into than the Opening Ceremony. While we hope someone, we're not sure whom exactly, holds the IOC accountable for their brazen, bitch-like behavior during these Olympics, it may be more likely that the real repercussions end up being felt by the organizing committees of future applicants from developing countries. In 2012 the Olympics move to happily democratic and developed London, with Tokyo, Chicago and Madrid in the mix for 2016. Sorry Delhi, Istanbul and Baku, Azerbaijan and other budding megacities; Beijing may have stifled your coming out party.
In the next post from the Deadspin Beijing Bureau, the handsome trio uncovers cached documents suggesting Will Leitch is a 16-year old gymnast.