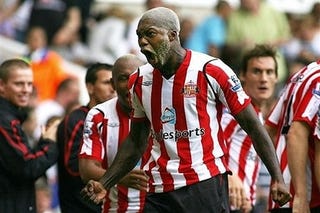 Tottenham took to the pitch this morning without the services of Dimitar Berbatov for the second straight week, and once again they failed to secure a single point. The frustrated Bulgarian striker wasn't even in attendance to watch his (soon to be former) teammates drop a 2-1 decision against Sunderland at White Hart Lane. Djibril Cisse became the hero in his Black Cat debut when he netted the winning goal in the game's 83rd minute. Once again the Spurs find themselves in desperate need of a positive result, but a date with Chelsea at Stamford Bridge will make that quite difficult. It looks like Tottenham is headed for another disastrous start to the season, although they have the talent to get back in form. •
Down Go the Gunners!
Arsenal came out flat again this week, only this time they were unable to secure three points, or even one for that matter. The Gunners fell 1-0 to their fellow Londoners from Fulham in the cozy confines of Craven Cottage. Hangeland, a Texan by birth and a Norweigan by the grace of God, put the Fulham on top in the first half when he converted a corner from Jimmy Bullard. Adebayor provided a couple of chances for an Arsenal side missing Cesc Fabregas only to see his shots sail wide of the bar, or straight into the awaiting arms of Mark Schwarzer. American favorite Clint Dempsey came on in the 77th minute for the victors, but the Cottagers weren't exactly in attack mode by that point. •
Some Love for the New Guys.
Hull City earned a point with a 1-1 draw against the Blackburn Rovers, giving them four points to begin their Premier League campaign. Fellow Premier League call-ups Stoke City thrilled their supporters with a stunning 3-2 win over Aston Villa in the day's most exciting match. Somehow Mamady Sidibe managed to get his head on a long throw from Rory Delap to finally put the Villains away in injury time.