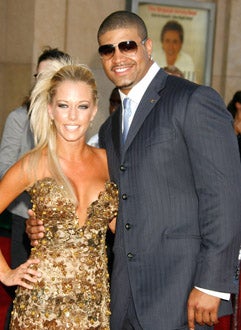 Shawne Merriman has a PCL tear in his left knee, now all that's left to determine is what he and the team plan on doing about it. At this point Merriman can get back on the field with his unstable joint, or he can opt for one of two surgical options. A partial reconstruction could get him back on the field this season, and a full reconstruction would put him out for the entire year. Considering that the Chargers don't really give a shit about Merriman's long-term health they are going to push him to return for the opener, but the linebacker should proceed with caution. His best bet is to get Norv Turner's opinion on the matter and then do the exact opposite of whatever that dumbfuck suggests. •
Spinal Surgery Is Scheduled for Williams.
Harry Williams, a second year receiver for the Houston Texans,
has regained
"almost normal neurologic function" and he's now awaiting surgery to repair the fractured vertebrae he sustained after colliding with a teammate in last night's pre-season game against the Cowboys. Here's wishing the young man a speedy and full recovery after the scary injury. •
McNasty.
Donovan McNabb put together a stellar performance in his most extensive action of the pre-season, and DeSean Jackson continued his eye-opening play. The rookie receiver from Cal returned a punt for a touchdown in addition to leading the Eagles with 67 receiving yards on four catches. Tom Brady sat out the game for the Patriots so that he could continue resting his sore foot while massaging Giselle's aching breasts. Or so I imagine.