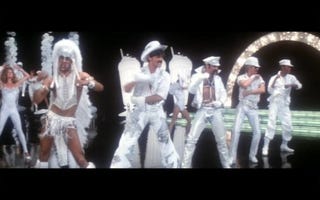 •
12:00
— Sport: Olympic-o-rama [NBC] - According to NBC, we get potpourri. Boxing, track and field, water polo, gymnastics, and Mom's Surprise Casserole. •
12:00
— Sport: Little League World Series, Consolation Game [ESPN] - Sadly, this game will be bumped for John McCain's announcement of his new pedicurist. •
2:00
— Sport: Tampa Bay Rays vs. Chicago White Sox [TBS] •
2:00
— Sport: Washington Nationals vs. Chicago Cubs [WGN] - Chicago is the center of the baseball world today. There will be plenty of illness in corporate environments across the city tomorrow. •
2:45
— Movie:
Can't Stop the Music
[TMC] - Bruce Jenner's acting debut and Steve Guttenberg's finest moment both occurred in the musical that told the true story of the rise of the Village People. Our afternoon is scheduled. •
3:30
— Sport: Little League World Series, World Championship [ABC] - Hawai'i vs. Mexico in the battle of Places People from New York Would Rather be in December.