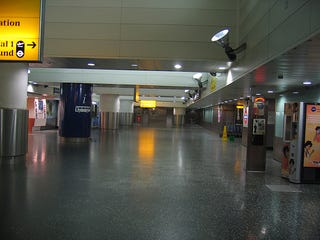 Britain's Olympic successes shall be winging their way back to the Empire shortly to the waiting arms of the loving mother country. Prime Minister Gordon Brown has promised a "tremendous reception" on Monday when they pitch wheels down to Heathrow's new Terminal 5. Only one problem, naturally: British Airways and Heathrow has told everyone to stay home for the safety and health of all involved. We assume they just couldn't figure out how to charge a fee for the event. As always, someone in public relations is there to ruin the mood:
"A spokeswoman for the British Olympic Authority said: 'There is going to be the opportunity to celebrate the success through different media. There is a party on The Mall tomorrow [Sunday] which will reflect on the successes and look ahead to 2012.'"
Oh, can we? Can we select the most appropriate media through which to celebrate the success of the Official Athletes of Great Britain and Associated Territories? That shall be so grand! We'll form a series of subcommittees to handle the reception. Dibs on Logistics! Also, does this mean we'll need to find a new parking spot for our bus?
Athletes' airport welcome cancelled over safety fears [The Guardian]