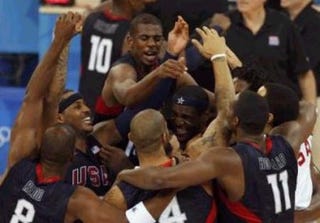 Heading into the Games of the XXIX Olympiad, the United States men's national basketball team had two goals. First and foremost, they wanted to win a gold medal. That is, after all, the primary mission of any Olympic quest. The secondary objective, though, was no less important to the psyche of everyone involved with the program, from the director to the coaching staff to the players to the fans: To redeem the very
idea
of American basketball and reestablish our national dominance of the sport. Now that they have succeeded in both goals, a bigger question remains: What does it all mean?Actually, that question has been on the mind of sports writers and bloggers across the country for the past couple of weeks, as Team USA steamrolled their competition en route to the gold medal game: China (101-70), Angola (97-76), Greece (92-69), Spain (119-82), Germany (106-57), Australia (116-85), and Argentina (101-81). Although rarely offensively overwhelming, the Redeem Team used depth, superior athleticism and a swarming, smothering defense to crush their foes, both physically and psychologically. And just like that, it was no longer a question of whether they could bring home the gold, it was whether they were as good as - or, unbelievably, even
greater
- than the vaunted Dream Team of 1992. The question is as natural as it is unfair. After all, the only way to truly understand something is to judge it in relation to similar things that have come before it. But the Dream Team was the first of its kind. It included
ten
of the
50 Greatest Players in NBA History
. And while two or maybe three of the Redeem Teamers have earned the right to stand among that pantheon — Kobe Bryant, Jason Kidd and perhaps LeBron James — the rest have not, or have not
yet
. Moreover, and I swear I'm not trying to sound like Chuck Klosterman here, the Dream Team was a cultural phenomenon that transcended the framework of its own sport. Some people,
and Larry Bird is among them
, even believe that the Dream Team was partially responsible for the rapid ascension of the overseas game. Which would be particularly ironic, that Team USA's utter mastery of international competition may have, in fact, ushered its fall from dominance. Fortunately or unfortunately, the gold medal game probably ended the "who's better" debate. Despite the fact that they had already beaten Spain by 37 points earlier in the competition, they struggled mightily against them in the final game. Team USA won 118-107, and the game really was that close. A Rudy Fernandez three cut the Americans' lead to only two with eight minutes left. That lead was still only four points with two and a half minutes to go when Dwyane Wade - who led all scorers with 27 points on 9-for-12 shooting - hit a huge trey to give the Redeemers a little sighing room. And while the close call against Spain cost them significantly in the discussion of all-time greatness, it only served to justify everything that led up to the golden moment. The three-year commitment. The fact that Mike Krzyzewski had the respect of his players and knew what plays to call. The leadership of Kobe Bryant and Dwyane Wade. And the movement, the passing, the
teamwork
down the stretch.
As team director Jerry Colangelo said
: "Had we not been together for three years, we might have cracked. Individuals might have gone one-on-one. That would've been the tendency. The continuity paid off." It really did. The American players, who for so long have been accused of overbearing pride and uncoachable arrogance, truly and completely put the team first. Not just in that final game, but over the course of the entire tournament and their three-year commitment. And, frankly, many people still didn't think that was possible as recently as three weeks ago, despite the fact that Team USA clearly had the best individual players in the Olympics. We'll never know whether the Redeem Team could beat the Dream Team on the court. However, we do know that they'll never beat Dreamers in peoples' minds. The Dream Team was a fairy tale story of unsurpassed dominance. Unless something truly unforeseen happens, they will be The Best Olympic Basketball Team forever and ever. The Redeem Team, though, is a close second, both in terms of talent and meaning. And I don't know about you, but I think that's a pretty sweet place to be.