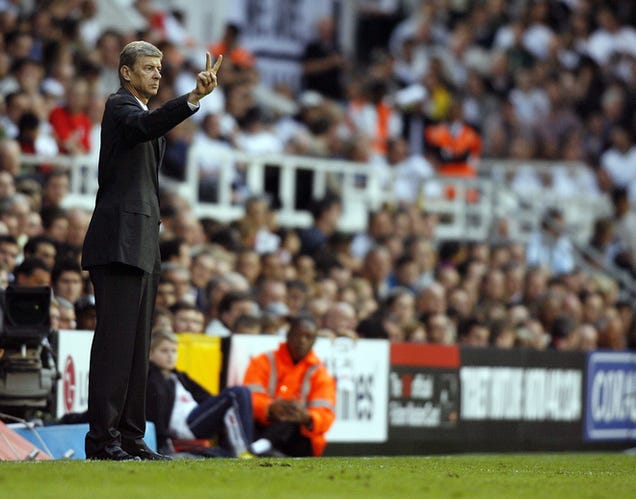 David Hirshey Michael Bertin writes regularly for Deadspin about soccer.
Arsene Wenger would have made a good captain for the Titanic. That has less to do with any nautical skills that he may or may not have, than it does with hubris. This is an Arsenal side he has claimed in print has the ability to win the Prem this year. Then, in the second match of the campaign, Arsenal not only loses to a Fulham club that avoided relegation last season on goal difference alone, but looks bad doing it. Here's how awful Arsenal's performance on Saturday was: It ruined this post. No really, it did.I knew I had a busy weekend, and the slate of EPL games looked pretty chalk (oops). So I put together a few hundred words centered around England's fortunate mid-week draw against the Czech Republic and their impending World Cup qualification struggles. It had wit, geopolitics, subtle patriotism, and a Clash reference. It was pretty brilliant. Just in case I don't get an excuse to break it out in the future, here's the gist: I don't fucking care. Really, why so much of the soccer discussion in this country is still focused on England's national team is beyond me. They aren't very good (Uruguay has more World Cups, folks) and, worse, they are boring. Plus, we stopped being their colonial toady a long time ago. Remember they were dicks about the taxation without representation scheme so we threw their tea into the water, then waited a couple of centuries before stealing the idea back as a revenue strategy for financing sports stadia. Anyway, I couldn't reasonably take shots at Tottenham week 1—which, after
the Sunderland loss
(ha ha) clearly weren't cheap—then turn up today and not even address what happened at Fulham week 2. Okay, I could, but then I'd be a bigger dick than King George III only without the advantage of being dead so as to avoid all of this. No, it won't be all Arsenal every Monday but, like I said, I couldn't exactly hide from it this week. So here goes: Arsenal were outplayed. It doesn't hurt to say it so much as hurt to have to acknowledge that they were somehow outplayed while maintaining about 70% of the possession. I don't even speak French and I could read Wenger's mind during those panicked second half sideline shots. "Merde." They're thin at midfield. Everyone knows they're thin at midfield. It was pretty apparent after a subpar and nervous opening week win over West Brom they're thin at midfield. So what does Wenger do with two weeks left in the transfer window? Buy another midfielder? No, he starts Denilson, who proceeded to give away more balls than
the Kick for Nick project
(yeah, it's a clumsy analogy but I'm trying to be altruistic and, you know, grow as a person). For all of Wenger's talent-spotting abilities, he also manages to unearth the only Brazilians who suck at fútbol. And it's not like there's a hedge here in that Fulham's victory is at least a victory for American soccer. Of the five Yanks on Fulham's squad last year, three are gone. Of the two remaining, one, Clint Dempsey, no longer starts, and the other, Eddie Johnson, has yet to make the game day roster. Clearly, if Roy Hodgson is allowed to continue managing at Craven Cottage, then the terrorists win. So if week one was about tempering enthusiasm, after two weeks this much seems certain: there might be far fewer givens on the table this season. Something Aston Villa and Blackburn also learned on Saturday. Thus far only Chelsea has gone out and won the matches on grass that they looked to win on paper. Unless Arsene buys someone substantial before the summer transfer window closes up this week—and that
appears to be unlikely
—he'll be rearranging the deck chairs until Fabregas (and Rosicky) gets healthy. Okay, it might not be that bad, but Fulham? Really? Merde.