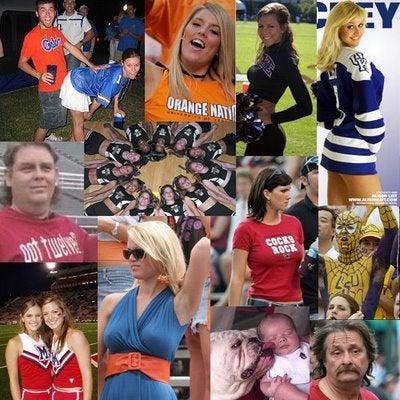 Last week we linked the news that CBS signed a 15 year deal to carry a single SEC game a week . Effectively CBS purchased the right to make a first pick each week to nationally televise just one game. For this right CBS paid $55 million a year. But, as is usually the case, ESPN has gone and upped the ante. Buying the rights to every other league game for—wait for this— $150 million a year for the next 15 years. Or $2.25 billion total . That's a tripling of the SEC's current television deal and will amount to $205 million in television rights each year. For comparison's sake, CBS pays $622.5 million to carry every AFC game. Most importantly for Southerners, however, the final nail has been driven in the coffin of JP/LF/Raycom. Praise to the Lord.
ESPN's aggressive bid is part of a strategy to secure high-quality programming for its networks and broadband platforms, while keeping the SEC from launching its own cable channel that eventually could compete with ESPN. And Raycom, which had been in talks with the SEC to the end, likely lost out because it was not able to match the size of ESPN's bid or the number of platforms it can use.
Every SEC fan wanted the league to found their own network but, admit it, you were sort of terrified of what that network might look like too, weren't you? What this means for the longer term is an interesting duality between the two largest conferences—the SEC and the Big Ten. The SEC has elected to stick with established television partners for more guaranteed money while the Big Ten has created its own network to carry content and develop value for their respective members. Which decision will ultimately prove more successful over the next decade? Should be interesting to see. The SEC has avoided the squabbles over networks carrying their channel (although, to be fair, any cable company in the South that didn't carry the SEC Network would have been burned to the ground), but isn't gaining any national distribution for anything outside of men's football and basketball. Meanwhile, the Big Ten continues to feud with cable companies but has launched a very well received channel focusing on their own conference and all its sports. The ultimate question becomes: Is there more money to make in the sports media landscape of the future by producing and distributing your own content or by continuing to allow that content to be distributed by established television partners? In the end, both conferences may reap more money by taking divergent paths than they would have if they'd taken the same path. The Big Ten's removal of their games from bidding makes networks like ESPN clamor that much more for the remaining content and the SEC's choosing not to start their own network probably makes carrying the Big Ten network more palatable for national cable companies because they don't have to worry about being extorted by each league. At least not yet.
ESPN pays $2.25 billion for SEC rights
[Sports Business Journal]