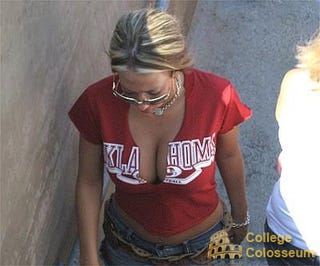 Today's preview of the #4 team in all the land is brought to us by Rohit Joshi, a senior majoring in business at OU. Yep, he's still in college, getting ready for the start of college football season while we're all cranking out billable hours on document review. Life is fair. He says job solicitations are welcome. He's also Deadspin commenter SheMateMe. Enjoy.
When looking at Oklahoma through the eyes of one of its programs' supporters, it is clear that expectations can be simultaneously running high and low. Ever since the Sooners' colossal meltdown in the 2005 Orange Bowl, Norman-ites have been assuming the worst for their team while still somehow expecting a national championship. Injuries, dismissals, and nationally televised embarrassments (2007 Fiesta Bowl – greatest game ever my ass.) have thrown blemishes on this perennial powerhouse. But mark it down boys, it'll be championship #8 in '08, err technically '09, but I know you don't give a damn.
Pros
Prospects. One glaring advantage that Oklahoma has this year is the amount of potential NFL talent. The Sooners have not been known for their prospect grooming since the late 70's, but ever since Purple Jesus left Norman, the program is a whole new animal. Take for example stud RB DeMarco Murray. Combine the speed of Usain Bolt, the ball carrying ability of Barry Sanders with the game-breaking explosiveness of God, and then only you will get DeMarco Murray. I mean, when asked to compare Murray to Adrian Peterson, Bob Stoops admitted he had a hard time determining who was the more talented running back. No homo, I love this kid. Clearing the way for Murray will be two sure shot first round picks in lineman Duke Robinson and Phil Loadholt. These two form the combined 672 lb, 13'3" ft wall on the left side of the offensive line. Too much power and too much foot speed means these two will be going happy-go-Jackie on defensive tackles like a donkey eating a waffle. Oh yeah, safety Nic Harris is way cool too.
Cons
Convict-like behavior. Yes Penn-State I am fully aware of your parking lot brawlers and I know the Gators are beaming with pride of their AK-toting offensive tackle, but convict like behavior has crippled the Sooners in a lot of ways. Embezzlements, weapons charges, and even grand theft garment has made Oklahoma look bad on the field. I know Rhett Bomar had an IQ that only rivaled Dubya, but I defend him because THE KID COULD FLAT OUT BALL. Bomar rehashed OU's dual quarterback history and had potential for a Heisman-caliber career similar to Nebraska's Eric Crouch. Loadholt's recent DUI doesn't help things for anybody and neither does DeMarcus Grangers exploits at a Phoenix area Burlington Coat Factory while perusing through the selection. Josh Jarboe, a prized recruit was just recently booted for freestyle rapping that he'll shoot somebody or have someone shoot him or doing some kind of insider trading, but nonetheless the coaching staff handed him his walking papers in a flash. Bottom line: if Stoops can give his crew a reality check, he will once again reclaim the moniker Big Game Bob.
Those Other Guys.
Right now you would expect me to take shots at Oklahoma State, the red-headed step child of OU or Texas, the school loved by both racist rednecks and Austin's wonderful hipster populations alike. They're too easy. I'm going for the new kids on the block - Mizzourah. Let me start by saying: Chase Daniel - sit down, please. Missouri fans claim this guy to be the second coming of whoever the hell played quarterback for Missouri back in the day and it is getting to his head. If you actually watch him play he is not the calm, poised leader that he plays on TV interviews. He's actually a baby, whining and blaming his teammates only to eat boogers in celebration when he actually does something right. Missouri is the king of the Big XII North, which says a lot if you play D-II women's volleyball. That's it and that all. I'll send you a postcard from South Beach.