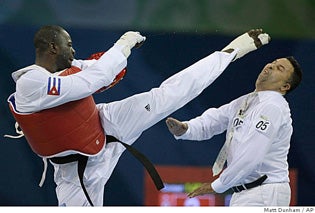 Fidel Castro may be on death's door, but he's not going to miss Olympic tae kwondo. And our favorite father figure in fatigues says that Angel Matos was perfectly justified in kicking one of the other judges in the face after a disqualification on Saturday.
Matos "as predisposed and indignant," after being unjustly disqualified, Castro wrote. "He couldn't contain himself." Castro also alleged that Olympic judges stole semifinal fights from two Cuban boxers. Cuba is accustomed to winning golds in boxing, but settled this year for four silver and four bronze medals. Overall, Cuba took home only two golds, down from nine in Athens four years ago. "I saw when the judges blatantly stole fights from two Cuban boxers in the semifinals," Castro wrote. "Our fighters ... had hopes of winning, despite the judges, but it was useless. They were condemned beforehand."
He also said, without providing details, that the coach had been offered a bribe. How come this sounds exactly like Hank Steinbrenner?
Castro Defends Athlete Who Kicked Judge In Face
[SFGate]