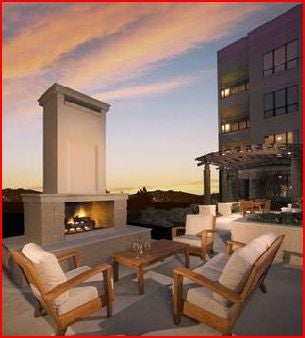 Michael Phelps, not even unpacked from Beijing, has already purchased a $1.69 million condo in Baltimore, complete with rooftop terrace, private screening room and robot butlers. (The latter wasn't in the online listing; I just threw that in there). Of course Speedo has already promised him a $1 million bonus for his efforts at the Olympics, and he may earn as much as $40 million more in endorsements, according to the New York Daily News . And by all accounts he's spending it like Vinnie Chase.
Besides his pricy address, Phelps bought the Meadowbrook Swim Club & Northwest Ice Rink in Baltimore. He and his coach, Bob Bowman, want to turn the facility into an elite Olympic training center. Phelps said he wants to buy a new car, too. "My friend's in the car business, so he's going to help me," Phelps said Wednesday before leaving Beijing. "I've been looking at some Aston Martins and some Maseratis. It would be pretty sweet to get an old-school Aston Martin, some of the old-school [James] Bond ones. That would be sick."
Actually, it was Bond's Lotus Asprit which had the underwater mode. But the Aston Martin did come equipped with a lethal tyre slasher; handy for those paparazzi chases.
Michael Phelps Makes Olympic-Sized Splash With Luxe Baltimore Condo
[New York Daily News]