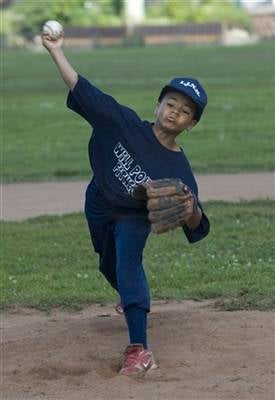 Nine-year-old Jericho Scott has been banned from pitching in a New Haven, Conn., youth baseball league because he throws so hard that he frightens the other players, according to league officials. But he took to the mound on Saturday anyway, so the other team simply dropped their bats and left the field, refusing to face him (San Diego Padres: "You can do that?"). Next logical step for all involved? Lawsuits! See, this is why I love you, America. From
the New Haven Register
:
The fighting started this week when Coach Wilfred Vidro refused a directive by league officials to replace 9-year-old pitcher Jericho Scott, whose pitching they say is so hard, fast and accurate that it might frighten or discourage other players. "The spirit of the league was community, family, well being, nurturing. It's an extended family and it's been disrupted," said attorney Peter Noble, who represents Liga Juvenil De Baseball De New Haven, Spanish for Youth Baseball League of New Haven. The league is not affiliated with Little League baseball. The Scotts also met with an attorney on Monday.
I believe there is precedence here in the landmark case
Dash Parr v. Metroville Elementary School Track & Field
from the film
The Incredibles
.
Baseball Brouhaha Goes Into Extra Innings
[New Haven Register]