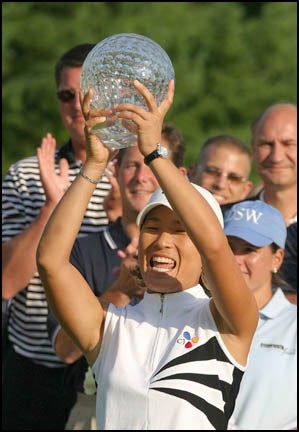 A couple of years ago in Philadelphia, a national controversy erupted when Geno's steak owner Joey Vento posted a sign on the front of his order window that said "This Is America: When Ordering Speak English." Joey became somewhat of a hero to many and a despised xenophobe to some civil liberties groups. The sign still hangs in the window today ( the saying is also menacingly tattooed on his forearm) and it is still a sticking point for many in the South Philly neighborhood and around the country who consider Vento just a mean-spirited, opportunistic bigot. Many of those sensitive-types who objected to Vento's sign will probably have similar issues with the LPGA, who have just passed a mandatory English-proficiency rule for its members. Golfweek's Beth Ann Baldry broke the story:
At a mandatory South Korean player meeting Aug. 20 at the Safeway Classic, the tour informed its largest international contingent that beginning in 2009, all players who have been on tour for two years must pass an oral evaluation of their English skills. Failure would result in a suspended membership.
The move was initiated due to the abundance of South Koreans infiltrating the LPGA (45 total) and some "complaints" from pro-am tournament vendors who became annoyed when the winners would be handed a trophy and a sizable check only to stand their waving and nodding like morons in front of the sponsors. (I'm paraphrasing. Kind of.) But the overall motivation for the initiative is to make sure the LPGA is represented properly in front of the media and that each of its members fully embrace the "entertainment" aspect of the sport, which Hilary Lunke, president of the Player Executive Committee tells GolfWeek is "just as important as shooting under par." Luckily for Lunke, once the story hits the right wing talk radio circuit, the LPGA will be bringing entertainment to a much larger audience. Mission accomplished.
LPGA To Demand English Proficiency
[GolfWeek]