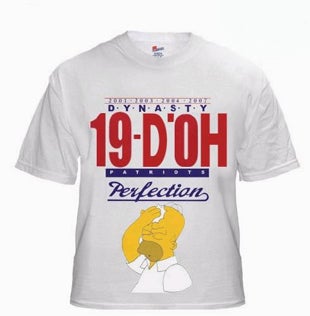 If you can't make it out to see the New York Giants take on the New England Patriots in tonight's preseason game, why not do the next best thing?* The Jamestown Jammers minor league baseball team (Class A New York-Penn League) is holding its gala "Saltute to Imperfection Night" at Diethrick Park, where they will pay tribute to a certain recent 18-1 season. Highlight of the evening: when Jammers mascot Bubba Grape reenacts Eli Manning's key 2007 Super Bowl completion to David Tyree. Ha, fun.
Fans are encouraged to wear their Giants or Patriots gear to the stadium for a night of poking fun at the most infamous imperfect team in history. Every fan wearing NFL gear will get in free! Plus, take in our special salutes to the best imperfect teams and moments in sports history!
You had me at the Bubba Grape reenactment, but there will also be this bit of inspired theater: The Jammers will hold a "wide right" contest, in which fans will attempt to miss field goals just like the Buffalo Bills' Scott Norwood in Super Bowl XXV. * = technically not the next best thing.
Salute To Imperfection Night Aug. 28
[Jamestown Jammers]
Top 10 Upcoming Promotions
[MiLB.com]